Husband:
Glyn J. Stauffer (graduate of Kutztown High School and Kutztown U.)
Married in 1996
Kids:
Tyler Jordan Stauffer (Born 6/01/99), and as of 2005 was attending Kutztown Elementary for Kindergarten.

Taryn Alyssa Stauffer (Born 5/22/02)
Taryn was born by c-section at 8:09 a.m. in Allentown. She weighed 7 pounds 7 ounces.
Chrissie's B-Day:
April 7th (which is actually the same day as Darren Max, Dave Knorr and Kenny Hoverter, who were all part of our class.)
Post HS Educ.:
Bachelor's in fine arts and elementary education from Kutztown University
Occupation:
Special Education Teacher in the Reading School District
("I hated school, I can't believe I'm a teacher! I think Mr. Minter wanted me to be a starving artist. I'll just keep using art in the classroom. I paint murals for people in their children's rooms or wherever they want one. Minter would be so proud!")

Chrissie took her Special Ed. exam the day of the 15-year reunion and passed. She is now certified in Elementary Education and Special Education. She adds that she loves her job!

As of 2005, Chrissie was continuing on from her Special Education teaching background to become a behavioral specialist, and School Psychologist.
Pets:
Buster (Boxer born in late 2000)
Cunnius - Stauffer Wedding Announcement
from 1/17/97 Reading Eagle/Times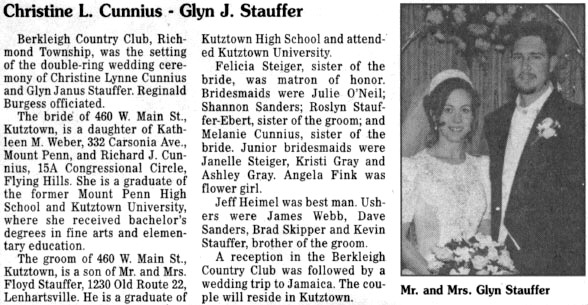 High School
Nicknames:
E.T.
Senior Memories (Copied directly from the Senior Yearbook):
Feens ... Mel ... Nina and Steve, #1 and #2 ... AM ... JB ... CNA -- Elvina ... JH (mom) ... "yellow maniac" ... EC ... "the pack" meets "the girls" ... dance marathon ... "Sharks" ... Bruce: I miss you baby ... good luck ... goodbye Johnny G.
Chris Mal Notes:
This is what Mr. Minter wrote in Chrissie's yearbook: "Why I am writing in your yearbook is beyond me. You didn't like my class. You always gave me a hard time. You did very little work and you never came to school. Otherwise I enjoyed having you. Good luck in K-town. Don't forget all the great background I gave you."
From the April 4th, 2006 Reading Eagle "Letters to the Editor":
Teachers getting a bad reputation

Editor:

I have never seen better teachers than I do in the Reading School District. We work harder than teachers in any other district in Berks County.

We are getting a bad reputation due to No Child Left Behind ("Diplomas in jeopardy for most RHS seniors," Reading Eagle, March 29). We should be holding our heads up with pride that we get through each day with a full day of lessons being taught.

No Child Left Behind is making it harder for us to actually teach. We do not have teachable moments anymore. If something isn't in the lesson plan, we do not dare go off on a tangent and teach to benefit the students.

All of the testing and progress monitoring that we are doing takes too much time away from actually teaching our students. School isn't fun anymore for students. They say, "Another test?"

Now No Child Left Behind wants to make us accountable for science as well.

If we keep giving more and more tests, how will the students learn anything other than how to take a test?

Christine Stauffer
Kutztown
Editor's note: Christine Stauffer is an special-education teacher at the Tyson-Schoener Elementary School.
It's a Small World:
When Chrissie was going to RACC, one of her professors for Special Education was Bob Pettit's sister.

Chrissie has worked with Bob Schmitz's wife for the last two years (as of 2005.) (By the way, speaking of Bob Schmitz, according to the 1984 yearbook, where everyone else listed the college they planned to attend the following year, Bob listed that planned to become a "Supreme Being.")
From the October 1984 Penn Post
New Students: CHRISTINE CUNNIUS, from Central, feels Mt. Penn has better teachers and nicer students. She likes the early dismissal but wishes there was more free time. The only complaint she has is that we have hardly any dances.

Wendy & Chrissie
(Cutest Picture in
the yearbook IMHO)
1986

Chrissie with her face very close to the paper, and 3/4 of someone else's head, 1986

Jody hiding behind the ads, and Chrissie sneaking into the picture
1986
Number people who are shaking their heads in disbelief
at the fact that I actually saved newspaper clippings of
people from our high school class: