| | |
| --- | --- |
| Address: | Email: |
| Reading, PA | Unknown |
Wife:
Lisa A. Schulze (graduate of Schuykill Valley HS)
Children:
Joseph (born in 2000)
Anna-Marie (born in early 2002, 6 pounds - 11 ounces)
Occupation:
International Brotherhood of Electrical Workers, Local 743
Wedding Notes:
Fellow Mountaineers Allison Poole ('89), Tiffany Zambito ('88) and Matt Boarder ('87) were in the wedding party. Dave Molesky was the best man. Matt Boarder's wife, Cheryl, Jeff Petersen's ('86) wife, Debbie, and Missy (Becker) ('86) Kochel's husband, Scott, were also in the wedding.
Schulze - Delewski Wedding Announcement
from Reading Eagle/Times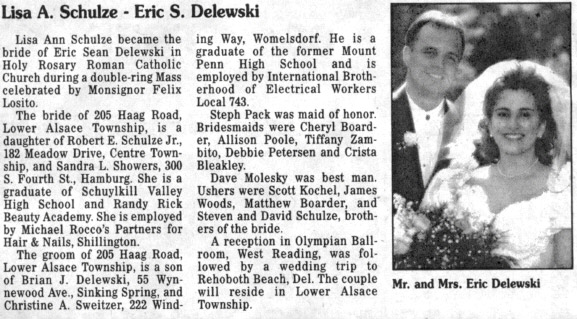 High School
Nicknames:
Pollock
Senior Memories (Copied directly from the Senior Yearbook):
Stories-Mobile ... Honda-Mobile ... Yellow Submarine ... Phil, Peter, Mike, Tony, Steve ... John, Chris, Steve, Rick, Alan ... Tour '84 ... I saw 'em twice ... Ha-Ha ... Chris and Brendan repulsed by Floyd.
Chris Mal Notes:
Wow, Eric had a lot of close friends in high school - Phil, Peter, Mike, Tony, Steve, John, Chris, Steve, Rick, Alan. It was nice of him to mention my name, but why was I only listed seventh?

Actually, the part in the "Senior Memories" about Pink Floyd was referring to me, and I've waited all of these years to clarify this. I do like Pink Floyd (although after Roger Waters left the band, their music got a little thin.) It was my first viewing of the movie "The Wall" which kinda took me a little by surprise. I still say anyone who wasn't repulsed watching Bob Geldolf shave off his nipples has got a stronger stomach than I. (In fact, Eric wrote in my 11th grade yearbook "...Even though you were grossed out by the tits, Pink Floyd are still great!..."

Eric's message to me in my yearbook starts out: "What can I say – you're a macho stud" and goes on to mention the time two guys pretended to beat me up in Birdsboro for wearing a Mt. Penn jacket. (That was a true story and a weird experience, by the way. They really did pretend to hit me and kick me – I guess they just wanted to scare me. Well, let me tell ya - mission accomplished.)

Eric and I had many discussions regarding our love of Genesis, Peter Gabriel and Led Zeppelin in high school. In fact, he wrote in my yearbook, "Is 'Wind and Wuthering' Phil or Peter? I think it's Peter, you say it's Phil. I buy the book and find out I was wrong. Boy, did I feel like a Worley Gig Squonk."

Eric shaved his head in 2000.

Eric did some work for me in my house in January 2002 - he installed my home theater system speaker cables through the living room floor, ran some cable-modem (CAT5) cable through the house, and put a new light fixture in one of our closets.
Number people wondering what
the hell a "Worley Gig Squonk" is: