From the October 1984 Penn Post
New Students: JOSEPH GALLAGHER, from Central likes our open lunch system, but didnít like coming back to school. He says the only difference between Mt. Penn and Central is that there are no nuns at Mt. Penn. Joseph enjoys drag racing in his free time.
Joe passed away not too long after graduation
as a result of a motorcycle accident...
"I have many, many fond memories of Joey. Not only was he one of the funniest people I have ever met, he was one of the nicest, most down to earth people, too. He would do anything for anybody and not ask or expect anything in return. I was living in Rhode Island when I got the call about his death and though I'm not an emotional person I cried like a baby. I didn't get back to Reading much he was always the first person I'd visit. This picture is one of the few I have of Joey, it hangs on my refrigerator so I see him every day." -- Bob Painter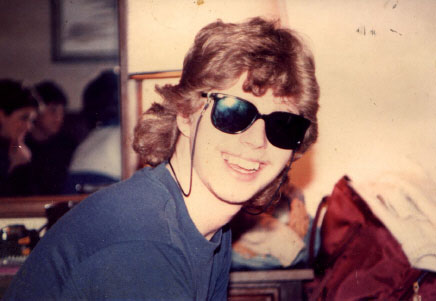 Senior Memories (Copied directly from the Senior Yearbook):
High School Drags ('84, '85, '86) ... '67 Cougar ... Blue Marsh ... '70 Nova S.S. ... Wildwood, N.J. ('85) ... ski trip ... Dewalds ... Neversink Mountain ... Christman Road ... Wanna get lucky? ... Melissa Becker -- a girl who shared many special moments with me, I will always remember the times we spent together -- I Love You! ... The Drive-In ... "It'll grow back."
Chris Mal Notes:
I'm sure you all remember Joe fondly - I know I sure do...
Number of times Joe
made me laugh: