| | |
| --- | --- |
| Significant Other: | Julie Suchomelly, graduate of Exeter High School ... The picture to the right is Julie from 2nd grade! |
| Birthday: | September 5th, 1967 |
| Occupation: | Opened up "Joey's Only Seafood" over in Muhlenberg on the 5th Street Highway and was a part-owner until it closed. He is now working at Boscov's East corporate center in the Internet Department as their web artist/designer. He said he gets to play with PhotoShop, Illustrator and GoLive all day. |
| Hobbies: | My Bro Joe's hobbies include: Repairing original arcade machines ("and playing the shit out of them"), building custom PCs ("and playing the shit out of them also"), and of course, art, animation and more art. |
Senior Memories (Copied directly from the Senior Yearbook):
Vo-Tech bus ... '83 ... Tia and JayJay 4 ever ..."Oley IGA Gigs" ... The Garage ... "Trip Week" ... Weekends with L.S. Deliveries!! ... Thanx to my Mom and Dad, Leanne Seitz and all my friends.
Joe's logo for the performance
coming to the Sovereign Center.

Animation clips that Joe
created for the Tommy play.
An example of what Joe has been doing for the Boscov's advertising department: To the left is the Boscov's advertisement before Joe came along. To the right is after Joe made the fonts burn!
| | | |
| --- | --- | --- |
| | | Joe at the Inn at Reading game Expo with his custom built Xblade. He brought 4 PCs to the show for peeps to use. (By the way, he claims that blue-flamed table cloth matches his curtains at home!) |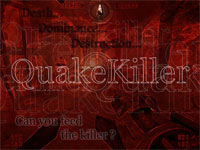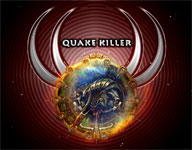 These are some of the PC "desktops" that Joe has created. "QuakeKiller" is his nickname when playing high-end PC LAN games. "Nightmare" is the nickname of his friend Andy Bilbow.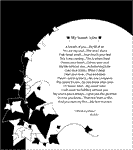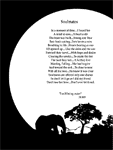 Here are two of Joe's poems that he wrote for his girlfriend, Julie, back in 2003. Julie had him submit these to a Poets website at the time and won an award. He said they wanted him to fly to Chicago to recite one of them at some Poets Convention.
Chris Mal Notes:
JOE DESIGNED THE

"

BURNING PAL MAL

"

LOGO AND ANIMATION THAT YOU SEE ON THE HOME PAGE. THANKS JOE!

Joe once invited me over to his house and showed me lots of pictures that he had drawn. He was quite an artist, and was certainly more talented than I was.

It looks like Joe is a big coin-operated arcade game fan. In searching the internet for "Joe Ricards", I found the following two sights. The first was a web page that Joe set up for his favorite arcade games called "Dedicated to Arcade Gaming" and the other was on an Atari website that listed Joe's Top 10 favorite arcade games of all-time. (Star Wars, Stargate, Galaga, Joust, Tron, Donkey Kong, San Francisco Rush, Track and Field, and Dragon's Lair.)

Joe shaved his head back in 1992.

Y102 once offered Joe a chance to come in for vocal tests to do commercials. Affiliates from the station visited Joey's Only Seafood - the restaurant that Joe was running - and always tried to get Joe to come in, but he was full-blown into the restaurant at the time.

Per Joe, 3/26/05: "I built myself a sit-down racing simulation cockpit with an actual bucket car seat - adjustable and all - quite spectacular! I mounted a Logitech Momo Series Wheel/Stick, Pedal system. Everyone just gets blown away when using it - real feel and rubber grips, shifter, force feedback...all this and I just roll it in front of the Flat Screen!"

Joe is still very good friends with Andy Bilbow who was one of my best buddies when I went to school at St. Catherine's from 1st through 4th grade. Andy and I then wound up playing on some traveling baseball teams together around 7th and 8th grade.
Number of coin-operated
arcade games Joe wishes he owned: