Nantucket Get-Together 2006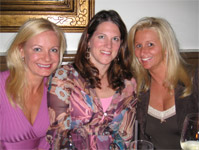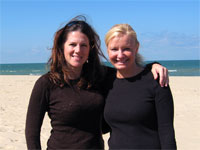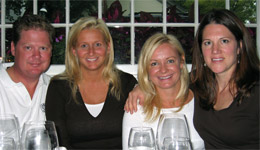 Nantucket Get-Together 2005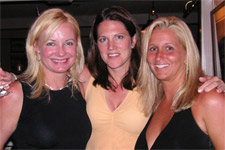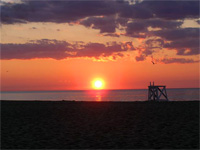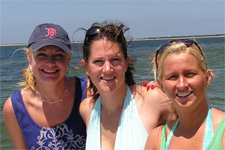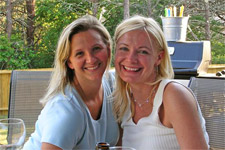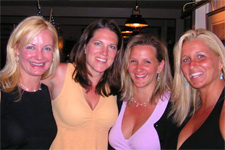 Steph and Becky Shaeff, Suzanna Post, Kelly Grim and Rebecca Lucey (Exeter '84)
met in Nantucket for a vacation in the summer of 2005.

Maine 2005 Pictures
2005 News: Kelly, her sister and their families went to Maine in early July 2005.
Below are some of the pictures from that trip.
2003 Pictures

Kelly (Grim) Seyler, Kelly's daughter Megan and son Baily, Suzanna (Post) Barlow, Suzanna's son Troy, Lisa (Westervelt) Kiedeisch's daughter Alexa holding Suzanna's daughter Colette, and Lisa.
Spring of 2003 at Suzanna's


Kelly (Grim) Seyler and Lisa (Westervelt) Kiedeisch at the Matchbox 20 Concert in Reading on 10/18/03.
2002 Pictures

Kelly in 2002 from her
trip to Texas. She hopes to
move there some day.


Thanks to this website Kelly was able to get
reunited with Gabi (Savitz) after 15 years!
The guy in the center picture is Gabi's husband, Norman.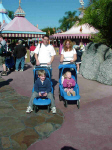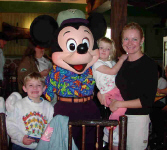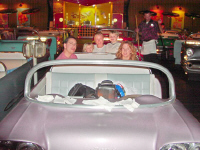 These are pictures of Kelly's trip to Disney
with Baily and Megan. Recognize the people
pushing Kelly's kids in the strollers?! That's
(Pacharis) and Darrin Smith! Kelly stayed
with them for a week during her vacation.
| | | |
| --- | --- | --- |
| | Kelly in 2002. | |
Marital Status:
Divorced
Children:
Bailey (Born in 1995) and Megan (Born in 1998)

Pets:
Adopted 2 Kittens 7/14/05

Occupation &
Where I Work:
Head Paralegal for Fox, Rothschild, O'Brien & Frankel in Exton, PA.
(Previously, she worked as a paralegal for Linton & Giannascoli.)
Post HS Educ. &
Achievements:
B.A. in Psychology from Millersville University
Assoc. Paralegal - Harrisburg Community College
Chris Mal Notes:
Kelly was Maid-of-Honor in Lisa (Pacharis) Smith's wedding. It looks like Kelly and Lisa even went to college together - they both graduated from Millersville.

I bumped into Kelly at Hershey Park in May of 2000. It was GPU Day the day I was there – apparently Kelly's sister works at GPU in the Call Center. Small world.

Kelly (along with her two kids, Baily and Megan) is going to visit Lisa (Pacharis) Smith in Florida in January 2002.

Restaurant Review: Kelly and Chris Mal were both eating dinner at Nino's (near Heister's Lanes) on Friday, 12/14/01. Kelly says she would probably never eat there again after finding a curly hair IN the salt shaker. Yuck.

Thanks to this web-site, Kelly Grim has gotten back in touch with Gabi Savitz in December of 2001 and they have been talking frequently. Kelly went to visit Gabi three times in New York in the first half of 2002. They all went to the beach together, too, in the summer of 2002.

Kelly ran into Lisa (Westervelt) Kiedeisch at Club 1402 in Reading in late December 2001.

Kelly went to Texas in May of 2002. She says she loves Texas and wouldn't mind moving there someday. A whole group of her friends did a Hill Country tour from San Antonio to Austin. They saw a lot of concerts and went tubing on the Gaudelupe River!

Kelly, Steph Shaeff and Suzanna Post got together over Christmas 2002 (see the pictures above.) They were able to do so thanks to this website! Kelly and Steph began emailing each other around October 2002. As they found out later, BOTH of them were in New Orleans for Halloween but didn't know the other was there, too.

Kelly got her motorcycle license in April of 2003. She took a motorcycle safety course, and passed the final test! Look out for Kelly on a Harley!

Suzanna Post had Kelly Grim and Lisa (Westervelt) Kiedeisch and all of their kids over for Easter in 2003. (See the picture above!)

Lisa Pacharis was back in Reading to visit in June of 2003. She and Kelly were able to get together for lunch.

Kelly was at a wedding in June of 2003. Coincidentally, Erich Pfahl's wife, Mellissa was a bridesmaid in the wedding.

Kelly ran into Lisa (Westervelt) Kiedeisch at the Matchbox 20 concert at the Reading Sovereign Center on 10/18/03. Earlier that same week, she saw Julie (Hyman) Singer at Kelly's daughter, Megan's, dance class. Julie's son, Isaac, takes a sports class at the same place.

Kelly is off to Disney with her kids, her sister and her sister's kids at the end of November 2003.
Senior Memories (Copied directly from the Senior Yearbook):
JFK '83 ... Spectrum '83, '84, '85 ... New York '84 ... "the garden" ... Peg Gab ... LP, SP, SS, LW ... T-15 ... U-HAUL ... Skyline 1-4-5 ... "Mugs" ... Canadian Boys ... Live Aid/The Palace ... My favorite sis -- Lisa ... Led Zeppelin ... "So many More days" ... Boston -- "How long?"
15-Year Reunion

Kelly, Julie's Rent-a-date,
Julie, Steve, Christine,
Christine's Husband,
Laura, Beth & Chris
Number of times Kelly
has gone to Hershey Park
since High School: