Location:
Merritt Island, FL
(Kim moved from Exeter to Florida at the end of 2006)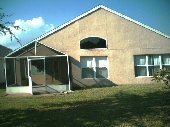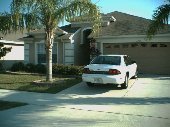 Email:


KimFlorida2006@aol.com
Websites:
From the October 1984 Penn Post
New Students: KIM SCHMIDT, came to Mt. Penn from Linden Hall, an all-girl boarding school. She likes having guys in her classes, but, like all of us, she wishes we would have a longer lunch period, since she had over an hour at Linden Hall. Kim has played basketball for four years; she was a library aid, and a former drama club member.
Husband:
Met her fiance, Hank, on 12/09/06. They were set up by Hank's sister, Marriane. They were married on Friday, 9/21/07. They picked that day because that's the day Kim's grandparents were married in 1946. Kim's grandfather passed away a few years ago, so they chose that date for her grandmother.

Hank is a Senior Aerospace Tech presently working in the shuttle program. In the mean time he is also a Junior at UCF, working towards a Mechanical Engineering degree.
Kim's Birthday
September 14th
Children:
Tiffany is 7 years old (Born 7/21/93) and in 2nd grade. She is doing so well in school and loves her teacher Mrs. Lorady. She loves to read and spelling. I also have a son, Trevor is 5 1/2 will be 6 on April 11th. He goes in the afternoon to Kindergarten. Tiffany had the same teacher (Mrs. Bria) back when she was in Kindergarten. He likes to do numbers better than letters. They both go to Lausch Elementary School. They love to play with their computers, playstation, drawing/coloring and spending time with their friends. Some days they can be best buddies or they wish they didn't have a brother or sister."

Kim enjoys taking them skating, miniature golfing, to playgrounds and movies and anything else that might be special.
Pets:
2 Dogs - Sherlock and Abby (born 6/22/07) ... They used to have 3 dogs, but their 15-year old dog, Jake, was put to sleep in June of 2008.

CLICK HERE for some pictures of the dogs!

Here is a picture of Abby taken in 2008, not long before her 1 year birthday...

Occupation:
Health, Beauty & Care, and General Merchandise Clerk
Exciting Things since High School:
Kim and her kids have been spending most of their summers in Florida where most of Kim's family is living. In 2006 they got to see the Space Shuttle blast off while sitting in her sister's pool which close enough to the Kennedy Space Center.
Yearbook
Future Career:
In our senior yearbook, Kim listed "Word Processing" as her future career path.
HS Nickname:
Kimmie
Current Hobbies:
Kim collects leaves according to her AOL profile.
Favorite
Quote:
"A smile is contagious."
Senior Memories (Copied directly from the Senior Yearbook):
Lunch Break!!! ... Chewing gum ... Basketball #1 ... Summer of '85 ... Pagoda ... Numero Uno Italy ... Thanks to Mike ... I love you Mom and Jim ... Class of '86.
Chris Mal Notes:
Kim was new to MPHS in 11th grade.

Kim will be traveling with her kids to Florida in June of 2001.

Kim is 5'-1", 102 pounds as of 2001.

Kim's step-sister, Karyn, graduated from Central Catholic in 1983.
15-Year Reunion

Karen Orth,
Chris Mal
and Kim Schmidt

Kim Schmidt & her 2 kids,
Karen (Orth) & son,
Cathy (Ketcher)'s two kids
Number of leaves in Kim's leaf collection: