Location:
Email:
South Carolina
(moved to Orlando, FL in June 2000, and from Orlando to S.Carolina in the Summer of 2007.)

ds6067bby@prodigy.net
| | |
| --- | --- |
| Husband: | Darrin Smith. Darrin is a graduate of Millersville University where he received a B.S. in Geography. He was employed by Geosystems Global Corp in Lancaster when they got married, but they decided they hated Reading and our cold winters, so he got a job in Florida working for an engineering firm called CH2M Hill, located in Orlando. Kelly (Grim) Seyler was the maid of honor in their wedding. They traveled to London for their honeymoon. |
| Kids: | Aubrey (Born in 2007) |
| Post HS Educ.: | B.A. in Political Science from Millersville University |
| Occupation: | Working part-time for a marketing firm. Before moving to Orlando, she was Retail Store Manager for Napier Co. in Reading. |
| Pets: | A cat named Peadey |
Pacharis-Smith Wedding Announcement
from the Reading Eagle/Times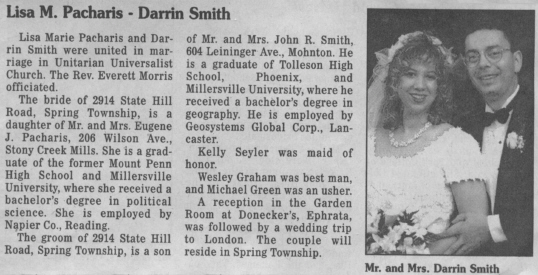 High School
Nicknames:
Lisa P
Future Career:
Lisa listed "Political Science" as her future career path in the senior yearbook.
Favorite H.S.
Memories:
(Lisa didn't fill out this section of the 10-year class reunion questionnaire, but her favorite memory was probably picking on me.)
Senior Memories (Copied directly from the Senior Yearbook):
To all my friends those wild chimpanzees -- SS, JH, SP, JB, CC, KG, JH, LW, SM, CJ, JE ... Wildwood -- wet spots and condos ... PB and C Trash Removal ... I don't bowl ... Furs are Fab ... German 4 mit 4 ... Basketball mishaps.
Chris Mal Notes:
If I remember correctly, Lisa was the one who typed in all the "Senior Memories" for the yearbook, and is therefore the one responsible for the "Memories" being riddled with typing errors. Hehe.

Lisa used to try to tell me that Michael Jackson was a better performer than Robert Plant.

Lisa described Orlando (where she is now living), "It's very green and lush but hot as all get out in the summer. Also in some of the outlying areas, I declare there is inbreeding still going on."

Lisa P, 3/2001: "Being a resident of Blandon, I am sure you are familiar with Snuzzles! I totally love it there - it's like entering a bizarre dimension that doesn't take credit cards. I miss funny places like Snuzzles and Victor Emanuel's. Places you can only find in Reading."

From my 1985 Yearbook: "To Chris, A fab guy, who unfortunately is outscored in English all the time. Give up the mushroom music! Lisa P."

Lisa was back in Reading to visit in June of 2003. She and Kelly (Grim) Seyler were able to get together for lunch.
Yearbook Staff
Editors
1986
Sports-Darren
Sports-Diane
Seniors-Lisa P.
Faculty-Cathy K.
Faculty-Thahn
Activities-Marta
Underclassmen-Karen

Raspberries
1986

Lisa P on the same
page as an ad
for Bowl-O-Rame
1986

Lisa Pacharis
1986
Number of times Lisa P picked on me: