Husband:
Frank E. LaPearl (married 4/4/87).
Frank works for C.F.Heckman and sons cleaning out septic systems ... Frank started taxidermy school in August of 2002. The first week he did 2 ducks, pheasants the next week and then fish. In 2003 he passed his Taxidermy test, and launched a website for his new business...

LAPEARL'S TAXIDERMY
Licensed State And Federal Taxidermist

Frank LaPearl
335 Port Clinton Avenue
Hamburg, PA 19526
Phone: (610) - 562 - 5346
E-Mail: lapearlstaxidermy@msn.com

Hours of Operation: 11a.m. - 8p.m Monday-Saturday

Lori's Birthday:
September 15th, 1967 (Virgo)
Pets:
See below
Occupation:
Unlisted
Kayla
Elizabeth
(Born 3/01/96)
The
LaPearls!
Kellie
Rebekah
(Born 5/26/99)
2011
Kayla is now 15 and a Sophmore at Hamburg Area High School and Kellie is now 12 and is in
Junior High at Hamburg Area Middle School. Kellie is my dancer AND field hockey player.
I am taking a photography course and doing some photo shoots on the side.
Christmas 2008
Pictures from Early 2008
Frank LaPearl
8-Pt 190 lb. Buck! 11/03/01

110 lb. Doe, 2002

From Lori, 10/18/02: "Frank bagged this doe early this morning during archery season. Field dressed she weighed about 100-110 lbs. She will become our newest wall mount. We have 4 buck hanging on our walls. She will be the first doe. We also have a coyote rug hanging in our family room, a full body mounted coyote on a shelf above our bar, 2 pheasants, 2 Mallards (male and female), 2 squirrels, and loads of fish mounted around the house. Frank graduated from Taxidermy School yesterday. Now we have to wait until he takes his test for his Pa. License to become a licensed taxidermist."

2011

Khloe
1/10/2010
Khloe is our 1 year 10 month old Black Lab. She is our Hayley's daughter. Khloe is the 2nd of 11 puppies born to Hayley on January 10, 2010. She is a handful, I'm starting to think she is ADHD!

Macey
10/06/2009-5/12/2011
Macey was our Chocolate Lab. We had to have her put down. She was just over 1 1/2. She was born with a birth defect and to make a long story short, she ended up with Mega Esophagus that turned into Aspirating Pneuomonia with Sepsis Arthritis. We were told she would never get better. She is missed everyday.


2008

Special and Fluffy
2008
"Special and Fluffy are our baby chicks. Kayla's science class hatched eggs and she brought 2 of the chicks home to raise. Special is the one that (has the Beatles haircut) is brownish yellow and Fluffy is gray." -- Lori, 5/19/08

Hayley
2/02/2005
Hayley, a Black Lab, is from Champion Bloodlines. Lori is going to be breeding her when she is old enough and showing her in Field Trials and possibly as a Dock Dog. The name of the kennel where they got her is: Windywood Hills Labradors in Mansfield, PA. Her parents are Saskia and Cruiser and they are both from Canada. Cruiser still lives there and Saskia lives in Mansfield.

| | |
| --- | --- |
| 2008 | 2000 |

Morgan
German Shorthair Pointer
10/27/00 - 2/23/09
Had to be put down because she had cancer.

Sheba II
12/19/01 - 3/21/05
Chocolate Lab, named after Sheba #1, the LaPearl's 1st Chocolate Lab who passed away when he was 13+ years old in 2001. Sadly, Sheba was struck by a car and also passed away on 3/21/05.

Sheba
Chocolate Lab
12/21/87 - 2/17/01

Shadoe
Black Lab
6/07/88 - 11/21/00
Favorite MPHS Memories:
All of my fondest memories are of the great times I had with Bev, Mindy, Karen and Susan.
Exciting Things
Since MPHS:
I have done so many exciting things, but the most exciting to me are the day I got married and the days my daughters were born.
Random Notes:
Former classmate, Lori Alison, was one of the nurses at Reading Hospital for the birth of both of Lori's daughters.

Lori's daughter Kayla starts kindergarten this year (September 2001) and will also start soccer for the first time. She's very excited!

On 5/04/02, Lori was at the 16-year Class Dinner at 3rd & Spruce with her husband and two girls. You have got to talk to Lori's oldest daughter, Kayla. Never have I ever met a little girl so personable, and what an imagination! She's going to be a handful! Also in attendance were: Suzanna (Post) Barlow and son, Barb (Yerger) Weston and family, Cathy (Ketcher) Rowley and family, Karen (Orth) Rimby and family, plus Bev and I.

According to Lori, 8/30/02, "Kayla started 1st grade yesterday. She was soooo excited! She didn't even cry."

Lori's brother-in-law is in the military, and left for Kuwait on 4/11/03, just a couple days after the coalition officially overthrew the Iraqui government in Baghdad. Per Lori on 3/04/04, "My sister just got word from Mark the other day that his convoy (10 trucks) was hit. They were on their way back from Baghdad. 3 out of the 10 were hit. He said no one was hurt badly. When they got back to their camp, they got mortared. He said 2 days later one of their trucks was in a head-on collision with an Iraqi truck. No one was hurt. He has 2 more missions to do and then he is done and can come home. Please keep him and the 131st Transportation Company in your thoughts! We are praying that since he only has 2 missions to go, that he stays safe." Mark returned home on 3/25/04.

More things to know about Lori: She has blue sweatpants, if she could be a crayon she would be the color blue, her favorite drink is Milk, some people call her "Blondie," her favorite month is September, her favorite food is steak, her favorite day of the year is Christmas, she yells and throws things when she g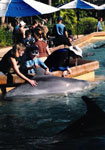 ets mad, she used to play with Barbies, she's a big hugger, she likes summer better than winter, she is raising a family of dust bunnies under her bed, her favorite lunchmeat is Tavern ham and Roast beef, she still has her tonsils, her favorite ice cream is black raspberry, her shoe size is 7, if she was a crayon she'd be the color "blue", she has no idea what size hat she wears, and her first car was a Red Lynx.

10/24/04 Update: Lori's mom ran into my mom recently (they know each other somehow, but I don't remember how) and, of course, talked about their wonderful children. That's how I found out that, coincidentally, Lori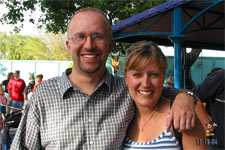 and her family will be in Disney at the exact same time as Bev, Jolie and I will. The LaPearls will be there from 11/13 through 11/20. We'll be there from 11/13 through 11/18! ... Lori and I and our families actually ran into each other at Magic Kingdom! Amazing, really. Just 60 people in our class, and our paths crossed in Orlando among what seemed like a million other people at Magic Kingdom that day ... The picture to the right is of Lori and Kayla petting a dolphin at Sea World. The picture to the left is of me (Chris Mal) and Lori.

As of February 2007, Lori's favorite TV shows are Friends, American Idol, Las Vegas and Days of Our Lives. Movies she has watched over and over: Dirty Dancing, Pretty Woman, Grease and anything with Kevin Costner.

Lori has been on vacation to Florida, Wyoming, Virginia and the Outer Banks in North Carolina.
Senior Memories (Copied directly from the Senior Yearbook):
Great times with Bev, Mindy, Sherri, and Susan ... Lunch at Susan's ... The Cows ... skating -- Fred ... Hershey trip ... Summer of '85 -- FL ... My pals Carla and Vicki ... Good luck Kate at MPHS.

Lori, Vo-Tech Pic
1985

Lori waving
goodbye to her
bowling ball
1986

Lori Sneaking
up on Sherri
1985
Number of Bacon Bits
Lori likes on her salads: