Stoney Creek Middle School
Grade 5-1 (1978-1979)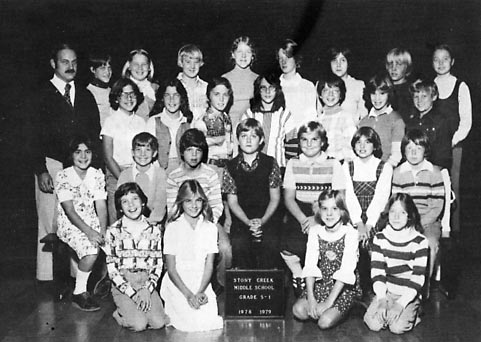 Top Row: Mr. Hoffman, Alex Grainger, Mindy Snyder, Mike Delp,
Susan Pieja, Tracy Sullivan, Dave Moleski, Ryan Petersen, Tracy Hartz.
Row 2: Diane Churan, Kelly Clark, Barry Mowery,
Christine Jurasinski, Jim Quirk, Karen Denby, Erich Pfahl
Row 3 (Sitting): Valerie Whalon, Jeff Greene, Darren Max,
Jason Miller, Cindy Gardecki, Lori Alesin, Steve Kunkel
Kneeling: Wendy Miller, Kathy Ford, Laura Schnader, Maia Carvalho
Stoney Creek Middle School
Grade 5-2 (1978-1979)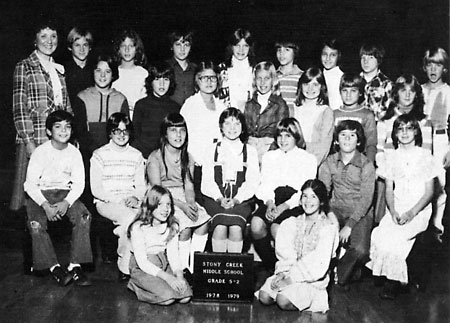 Top Row: Mrs. Sok, Mark Pellerite, Julie Hyman, Eric Delewski,
Denise Smith, Kenny Hoverter, Vikki Vinchofsky, Mike Kelly, John Mazzo
Row 2: Tracy Moyer, Dave Thomas, Beth Klempke,
Lori Czarnecki, Kelly Grim, Dave Dunkelberger, Jodi Brigel
Row 3 (Sitting): Rusty Magazzu, Tina Raifsnider, Bev Kercher,
Missy Ryan, Gabi Savitz, Marc Youngerman, Stacy Palm
Kneeling: Beth Rosser, Marta Weitz
Not Pictured: Anne DiCerchio, Leon Pace
Stoney Creek Middle School
Grade 5-3 (1978-1979)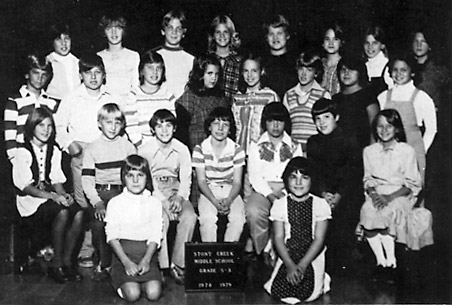 Top Row: Jennifer Ziegler, Tanya Keller, Jeff Petersen, Lori Stoss,
Mike Rapp, Julie Horst, Lisa Westervelt, Suzanna Post
Row 2: Dave Strickler, Mark Kirn, Sheila Mervine, Leslie Doll,
Sharon Lewandowski, Barclay Wilson, Kathy Fernandez, Wendy Seidel
Row 3 (Sitting): Debbie Lojec, Chris Malinowski, Steve Monroe,
Mark Schwartz, Bob Pettit, Evan Spohn, Shephanie Shaeff
Kneeling: Wendy Crow, Denise Miller
Not Pictured: Kelly Carter, Mr. Leinbach
Stoney Creek Middle School
Grade 5-4 (1978-1979)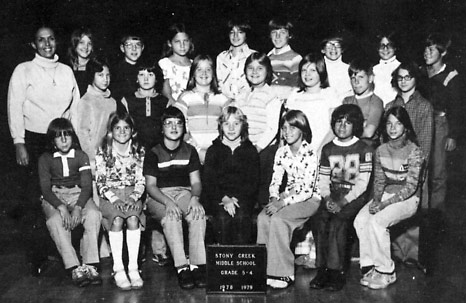 Top Row: Mrs. Savitz, Cori Roboski, Dave Blose, Caroline Wolf,
Dave Knorr, Tom Malecki, Dave Borst, Leann Deisher, Eddie Curry
Row 2: Lisa Pacharis, Todd Weikel, Teresa Vozella,
Sue Klempke, Karen Orth, Rusty Fletcher, Kate Chimenko
Row 3 (Sitting): Ron Slutsky, Sally Ford, Bill LaBate,
Sherry Becker, Sue Green, Sean Gimeno, Missy Becker
Not Pictured: Jay Sockel
Stoney Creek Middle School
Grade 6-2 (1979-1980)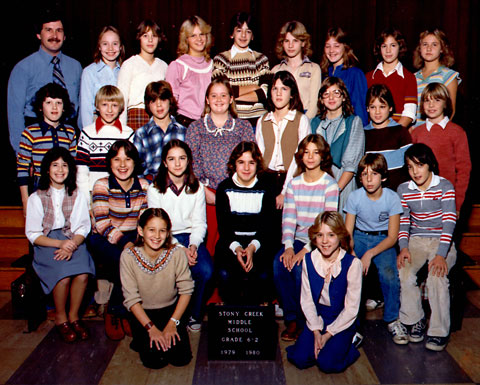 Top Row: Mr. Hoffman, Tracy Hartz, Christine Jurasinski, Lori Stoss, Dave Knorr,
Lisa Westervelt, Cori Roboski, Karen Denby, Beth Klempke.
Row 2: Todd Wiekel, Chris Malinowski, Darren Max, Teresa Vozella,
Suzanna Post, Lori Alison, Dave Dunkleburger, Jeff Greene
Row 3 (Sitting): Marta Weitz, Audrey Acker, Kate Chimenko, Gabi Savitz,
Missy Becker, Ron Slutsky, Brendan Kane
Kneeling: Steph Shaeff, Laura Schnader
6th Grade Science Fair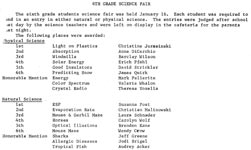 CLICK HERE to see a larger version of the winners.
Stoney Creek Middle School
Grade 7-1 (1980-81)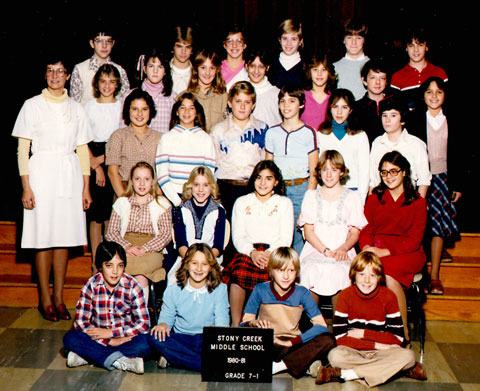 Top Row: Dave Blose, Dave Strickler, Diane Churan,
Heather Hill, Tom Malecki, Eric Delewski.
Row 2: Kathy Ford, Suzanna Post, Cori Roboski, Vikki Vinchofsky,
Christine Jurasinski, Jim Quirk, Ann DiChercio
Row 3: Mrs. Latimer, Audrey Acker, Missy Becker, Jason Miller,
Kenny Hoverter, Kate Chimenko, Mark Youngerman
Row 4 (Sitting): Beth Rosser, Laura Schnader,
Valerie Whalon, Maia Carvalho, LeAnn Diesher
Row 5 (on the dirty floor): Brendan Kane,
Stephanie Shaeff, Chris Malinowski, Steve Kunkel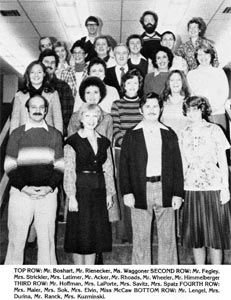 This is a picture that Jason Miller sent me that he scanned from
the 1981 Stoney Creek Middle School yearbook.
These are the people who shaped our future.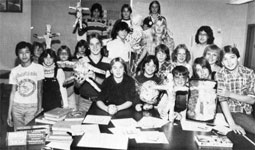 Another Jason Miller scan from the 1981 Stoney Creek Middle School yearbook.
The picture didn't have a caption, so we have no idea what this was about.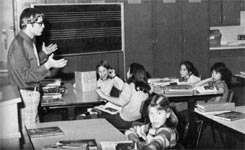 Mr. Boshart's music class. I'm not sure who the people are in this picture.
Guesses from the MPHS Yahoo Group are: Chrissy Bukowski (in front)?,
Valerie Kring (in back)?, Pam Tucci (laughing)?, Vickie Stracka (in back)?
Obviously all of those guesses can't be right, since those guesses
are all not in the same class.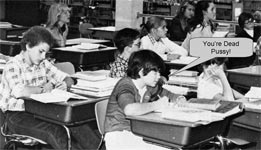 Brendan Kane, 12/15/06: "I think we may be waxing a bit romantic on the pods. I agree that they had their charms, but they also had their drawbacks. The main one was that even though Steve Kirlin wasn't in my 7th grade math class with Spatz, he could still wave fists and mouth threats at me from the back of Lapore's (?) English class. I still remember walking back to my desk one day and looking across the open pod-space only to see him mouth very slowly and clearly, 'you're dead, pussy,' from the back row of his class. I'm sure open and interactive learning was the point to the pods and that they were not meant to encourage open and interactive bullying, but there you are. With formative experiences like that no wonder I dropped math/physics (per my yearbook quote) as a career path!"

Greg Tucci: "Ben, you are again confusing me with Steve Kerlin, I was the one in Ms. Laporte's class who would taunt you constantly. I apologize for the psychic pain I must have caused you, and sorry that I derailed your career path. If there is anything I can do to help make amends let me know."
Stoney Creek Middle School
Grade 8-1 (1981-82)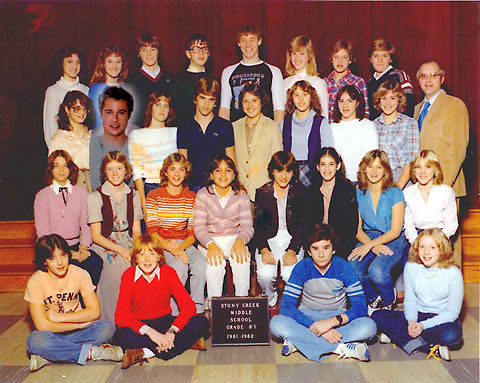 Top Row: Vikki Vinchofsky, Cori Roboski, Tom Malecki, Dave Blose,
Steve Curlin, Heather Hill, Randy Boyer, Jason Miller
Row 2: Leann Diescher, Brad Pitt, Suzanna Post, Dave Strickler, Audrey Acker,
Christine Jurasinski, Kate Chimenko, Karen Denby, Mr. Roger Fegely
Row 3 (sitting): Missy Becker, Maia Carvalho, Kathy Ford, Ann DiChercio,
Valerie Whalon, Marta Weitz, Stephanie Shaeff, Laura Schnader
Row 4 (on the dirty floor): Brendan Kane,
Steve Kunkel, Marc Youngerman, Beth Rosser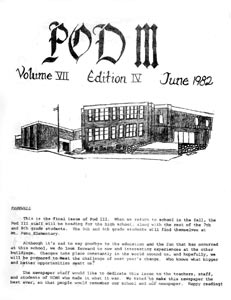 Another Jason Miller scan, this one is the cover of the last issue of "Pod",
the Middle School student newspaper. After June of 1982,
the school was closed. 7th & 8th grade students went to the
high school, and 5th & 6th grade students went to the elementary school.

WHAT WE WILL REMEMBER
by: Gloria Hutcheson and Jenny Schickler
Excellent shop & home ec. equipment .., spacious gym ... open space ... malfunctioning air-conditioning ...Mr. Leinbach's jokes ... Mrs. Sok, Mr. Lengel, Mr.
Hoffman playing softball in the pod ... Mr. Bierly's whistle ... long lunch lines ... the school dances ... The Haunted Hall ..freezing nights at Camp Adahi ... Hat Day ... Science Fair projects ... insect collections ... 7th grade Ecology Unit ...Challenge Bowl ... donkey basketball ... students vs faculty sports ... "Scrooge" ... Bierly Burgers ... the silence when Mr. Hoffman enters the room ... school dances ... the rush for the Computer Room ... science experiments that backfire ... the trip to Williamsburg ... concerned teachers ... 3 minutes for showers ... rocking back on chairs .., the ransomed lectern ... Oscar, the fish-eating fish ... the rush to catch the bus ... Mrs. Sok vs. Mr. Lengel ... Friday last period ... the noisy distractions of 3 or 4 classes going on at once ... getting into trouble in the pod ... everyone's hearing me get in trouble in the pod ... pencils in the ceiling ... valentine flowers that smell ... a trip to McDonald's with Coach for breakfast ... a TV program under the direction of Mr. Leinbach ... the copper head in the gym ... the permanently out-of-order bathroom ... how naive we were at the beginning of 5th grade ... how we felt when we heard our school was closing.