Beverly & Daryl Burge
2006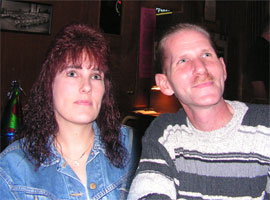 Beverly (Kercher) & Daryl Burge
(Picture on the right and bottom are from September 2001)
| | | |
| --- | --- | --- |
| Cassidy, Jaden, Dylan | Dylan, Jaden, Cassidy, 7/23/00 | Cassidy, Jaden, Dylan |
| | | |
| --- | --- | --- |
| Daryl & Bev | Dylan, Jaden, Cassidy | Halloween 2001 |
Hutch
(The Party Animal)
Husband:
Daryl H. Burge (married 4/26/91).

Bev knew Daryl for two years before they started dating. She met him through Daryl's Mom who worked with Bev.
Children:
Dylan (09/19/90), Cassidy (12/01/93), Jaden (1/04/98)

"My oldest son, Dylan, is most like myself. My daughter, Cassidy, looks the most like me, but is very rough and knows how to take care of herself. she beats up both of my sons, 9 times out of 10. My son, Jaden, is my baby. I call him my 'Sweet Pie.' There are no words I can think to say about him. I think I favor him the most, he's my life! I love them all the same, but there's just something extra there for him."
Pets:
Hutch (German Shepard)

The Burges used to have another dog, a Siberian Huskey named Starsky, but he caused $3000 damage to their kitchen one day and so they gave him away.
Occupation:
Bev is a Medical Dental Bureau Telephone Operator, and her husband, Daryl, is an NOC Supervisor.
Favorite HS
Memories:
Todd Weikel knocking the computer off of the desk, and smacking Ryan Petersen (daily) for picking on me.
Exciting Things
Since HS:
Married my husband and had three children, having my own house and my two dogs.
Yearbook
Future Career:
In our senior yearbook, Bev listed "Interior Design" as her future career path.
Senior Memories (Copied directly from the Senior Yearbook):
Best wishes to Mindy, Lori, Susan -- great times together ... thanks to my sister Michele ... Friday nite bowling ... movies ... Purple Rain ... Prince #1 ... Can't forget Julie K. And Wildwood '85, the greatest.
According to the Burge Home Page:
The Burges love sound systems that go down to the SUB SONIC level, they love all types of music from A to Z, Bev's all-time favorite singer is Patsy Cline, Daryl likes Bob Segar and Lynyrd Skynyrd, they both love fast cars and driving them fast (Bev always thinks she is the winner), they both like to ride bikes and take long walks, Daryl is also a big football fan who loves the Giants, he loves to work on cars and computers, they love to play with their kids and surf the internet, and Bev and Daryl both love Stone Cold Steve Austin!
Chris Mal Notes:
I would like to personally thank Bev for being one of the few people who didn't put their address in the section labeled "Internet Address" on the 10-year reunion survey that was sent with the invitations.
15-Year Reunion


Bev (Kercher) Burge,
Mindy (Snyder) Hinnershitz,
and Jody (Brigel) Daniels
Collin Pfahl and Jaden Burge
(Bev Kercher's son) playing
in the Rowley's sandbox
From the December 1985 Penn Post

OUTSTANDING
VO-TECH STUDENT

Two of our students were recently chosen by the BCIU as Students of the Quarter. Each quarter IU shop teachers choose an outstanding student from their areas for this honor.
Beverly Kercher was chosen for her work in Painting and Decorating. She is attending Berks East and is working very hard at her trade.
Beverly's hobbies include going to the movies and rollerskating. She also enjoys being with her friends.
Beverly enjoys her trade and plans to become an interior designer.
--Kristen Pfahl
How much the Burges loves Stone Cold Steve Austin: