Wife:
Married in Spring of 2001 to Karen Jean (Ledebuhr) who Evan describes as "a truly fabulous woman for putting up with me."

Evan's wife, Karen, is from Providence, NJ, and went to college at Susquehanna University where she received a bachelor's in Finance, then went to Seton Hall University where she obtained her master's in Accounting and Finance. She works at First Energy in the Tel-Com department.
Children:

Jonathan Erich Spohn was born 6/06/04 at 6:40 a.m. He weighed 8 pounds, 8 ounces at birth.

Gabriel Karl Spohn was born 12/14/07. He weighed 8 pounds, 5 ounces at birth.

Occupation:
As of 2006, Evan is a Financial Manager for Stevens & Lee located in Reading, PA.

Previously, he was a Finance Manager at "Clear Channel Outdoor"'s Philadelphia branch. And before that he was the Corporate Controller for Health South Reading Rehab Hospital (located on Route 10). Steve Kunkel's wife also worked there, so Steve and Evan would occasionally see each other at some of the hospital functions.
Post H.S. Education:
B.A. in Accounting from Alvernia College
Pets:
None.

Lady Chesterfield (A Yellow Lab born in 1996 named after Lord Chesterfield Ale!), passed away in March of 2007.
Ledebuhr-Spohn Wedding Announcement
from the 8/05/01 Reading Eagle/Times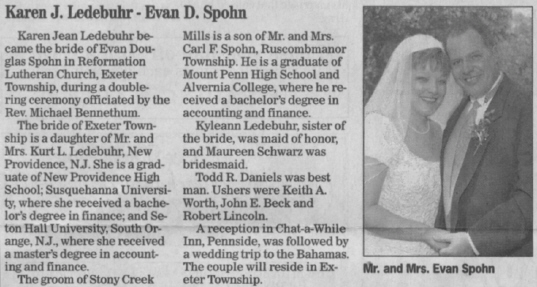 Yearbook
Future Career:
In our senior yearbook, Evan listed "Business Administration" as his future career path.
HS Nickname:
Spanky
Senior Memories (Copied directly from the Senior Yearbook):
U2 Live 4/24/85 ... All the good times - BB, RB, DM, LP, JP, RS, DS ... Summer Job ... Poker Night ... Flips - moonlight swims ... Pete - No Johnsons ... The Boats ... Night School JP, DM, RB ... Thanks to all.
Chris Mal Notes:
Evan's was the first RSVP returned in the mail for the 10-year reunion.

I still carry artwork drawn by Ron Slutsky - the famous "Air Spankles" logo. Ask me if you can see it. I'm quite proud that I haven't lost this keepsake most certainly worth a lot of money by now.

Evan ate at Bixler's on 1/02/01.

Evan is Laura Schnader's step-cousin.

Evan played golf once with the Bowers clan in the Summer of 2001 - Brett, his brother Todd and their dad.

Evan was named Golf Team MVP as a freshman in 1983.
Small World Notes:
In the span of 3 days, Evan ran into 3 people from our class. 3/03/06, he ran into Jodi (Brigel) Daniels at a 40th birthday party, then the next day he saw Erich Pfahl at a local golf shop, and the next day he ran into Barclay Wilson at Lowe's.

Just a couple weeks after Evan informed me that his wife, Karen, worked at First Energy in the same building that I'm in, I got an invitation to eat lunch with the CEO of the company along with about 15 other people - one of which was Karen Spohn.
From the November 1985 Penn Post


OUTSTANDING ATHLETE
Evan Spohn, the male athlete of the issue, is the number one man on the golf team and has done very well this year. He went to Counties and shot an 80 in the first round. In the second round he shot an 91, giving him a total of 171, which put him in eighth place.
Playing football and basketball, listening to the radio, watching T.V., and going out with friends are some of the things he enjoys doing in his spare time.
- Sandy Horning
Number of times Evan has eaten at Bixler's: