Mt. Penn High School
1985-86 Golf Team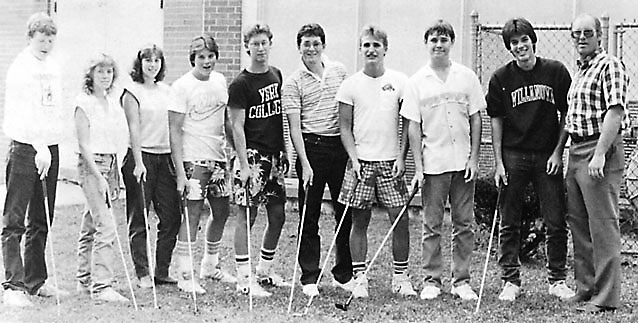 Steve Kunkel, Maia Carvalho, Christine Jurasinski, Mark Leffler, Mark Goldstein,
Dan Hafetz, Jeff Seyfert, Derek Hutcheson, Evan Spohn, Coach Roger Fegley
RECORD: 6-4
MPHS
Opponent
OPPT
419
D.Boone
437
452
Exeter
473
584
Reading
571
390
Fleetwood
387
432
Twin Valley
494
412
D.Boone
460
442
Exeter
424
438
Reading
474
457
Fleetwood
455
434
Twin Valley
506

Five Mt. Penn golfers achieved success in 1986 as they advanced into the District III Golf Tournament. Evan Spohn, placing 8th, and Dan Hafetz, placing 9th in the Boys' Berks County Golf Tournament. Derek Hutchinson also gained an entry into the tournament for District III. They were joined by Christine Jurasinski and Maia Carvalho who finished 3rd and 4th, respectively, among the females.
From the October 1985 Penn Post
MT.PENN GOLF TEAM IS READY TO CHALLENGE
As the school year opens, the golf season starts and this year's team is ready to challenge. With all of last year's players returning, a good season is expected. Coach Fegely feels the team has a very good chance at winning the division title.
In the Mounts first match, Evan Spohn and Derek Hutcheson fired 75 and 79 respectively and led the team to a 419-437 win against Daniel Boone. In the second match, the Mounts outlasted the Exeter Eagles in a 452473 win. Leading the team were Dan Hafetz with 79 and Evan Spohn with 82.
With the enthusiasm and drive of the players, this team is ready to win the title, and they feel they will.
On October 9, the Berks County tournament for the girls will be played. Both Maia Carvalho and Christine Jurasinski will represent Mount Penn. And October 16 the boys will compete at Blackwood for the Berks County tournament.
- Dan Hafetz

From the November 1985 Penn Post
GOLFERS GO TO DISTRICTS
On Tuesday, October 22 three of Mt. Penn's golfers played in the District 3 tournament in York. Derek Hutchenson, Evan Spohn, and Danny Hafetz competed with individuals from many schools in District 3 to qualify for the state championship which was held at Penn State on Monday, October 28. It was a two day tournament with a cut after the first day of play. The top 40 and ties qualified for the next days round. Players from Berks county did qualify for the second round including Mt. Penn's Danny Hafetz.
- Danny Hafetz

From the November 1985 Penn Post
GOLF SEASON COMES TO AN END
Suffering an early loss to a very consistent Reading High Squad, the golf team needed to win every other match to win the division title. They did play well against the eventual division champs, the Fleetwood Tigers. They then lost two extremely close matches against them. The total amount of strokes they lost by in both of the matches was five.
The team has nothing to be ashamed of by finishing 64, and in third behind Fleetwood and Exeter. The loss of senior Evan Spohn could hurt next year's team a little, but four sophomores and a junior will be returning. Coach Fegely feels the team can do it next year if all the players do return.
- Danny Hafetz
Mt. Penn High School
1984-85 Golf Team

Top Row: Dan Hafetz, Steve Kunkel, Christine Jurasinski,
Mark Goldstein, Mark Leffler, Todd Boyer
Bottom Row: Dan Hutchenson, Maia Carvahlo, Jeff Seyfort, Evan Spohn

MVP: DAN HAFETZ
Most Improved: EVAN SPOHN

---

November 1984
<![if !vml]><![endif]>Outstanding Athlete
This issue's outstanding athlete is Maia Carvalho, a junior. Maia has been a member of the golf team for 3 years. Her average in the game has improved by twenty-six strokes since her freshmen year.
Her placement in Berks County Girls Golf Tour is as follows:
1982: 4th place
1983: 3rd place
1984: 5th place
She was the first girl at Mount Penn to play in the District III Girls Golf Tour.
Maia's determination and dedication to the golf team has continued and grown even though her seasons with the golf team have been losing records. Her coach expects her to place in the top five in the Berks County Tour next year and qualify for District III play. Congratulations Maia!
- Karen Denby

From the October 1984 Penn Post
Mt. Penn Golfers Look Ahead
This season may be the turning point for the Mt. Penn golf team. With the experience of the older players combined with the youth and enthusiasm of the younger players may make this a season of surprises tot the team.
The Mounts opening match was lost to a strong Fleetwood team. They then lost two consecutive matches by one stroke - 472 to 471 against Twin Valley, and 428 to 427 against Daniel Boone. The Mounts fourth match provided better results. Mt. Penn defeated Reading 422 to 464 winning by 22 strokes.
Coach Roger Fegely feels that the golf team has a very promising future with a young team and they should be contenders within the next 3 years. Fegely also says that individual golfers should do well in qualifying for the district tournaments. Good Luck Mounts!