Husband:
Norman Hoyt (Married in 1990. Norm is a UPS Driver. "We were married on World Yacht peired at 12th Avenue in Manhattan. Our reception sailed the Hudson River. Now years later, we have a great life with two kids, living in the northernmost mountains in New Jersey.")
Children:
2 kids: A daughter named Hana born in 1993, and a son born in 1994. Gabi says Hana "is just like me, and my mother can't stop laughing! (Paybacks are a bitch!)"
Post HS
Education:
Gabi graduated from MPHS after 11th grade and attended Fairleigh Dickenson University in Teaneck, New Jersey. She graduated with an Associates Degree in Dental Hygiene.
Occupation:
Has been practicing Dental Hygiene since getting out of college.
GABI & KELLY GRIM, 2002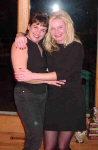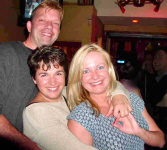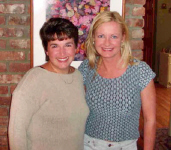 Thanks to this website Kelly Grim and Gabi were able to get reunited
after 15 years! These picture was taken in 2002 when Kelly went to visit Gabi in New York on more than one occasion. The guy in the center
picture is Gabi's husband Norman.
Chris Mal Notes:
Gabi was one of two people, along with Jill Moyer, who graduated from high school after 11th grade. I'd be curious to ask both of them how they felt that decision impacted their lives - for better or worse in the long run - if at all.

The picture above was from the 1985 yearbook. Underneath it she wrote "Guess what I'm studying. Yup, it has to do with sex. What else."

My sister, Lynn, is still friends with Gabi's sister, Mandy.

Gabi sat behind me in Mr. Choyka's history class in 11th grade.

Senior yearbook, Page 3, 4th grade picture...Say "Ahhhhhh"!

Gabi had a Cinco D'Mayo party on 5/05/02.

The thing Gabi misses most about Reading is V&S Cheesesteaks.

Gabi's sister Mandy's wedding announcement was in the 9/22/02 Reading Eagle. Mandy was in the Class of '90 along with my sister, Lynn. According to the announcement: Mandy and her husband, Toby Romer, were married in Beach Haven Gardens, NJ. Mandy graduated from West Chester University with a degree in Psychology, and from Boston University with a master's in Counseling Psychology. She is pursuing a doctorate at Boston College, where she is employed. Her husband is a magna cum laude graduate of Harvard University and is employed by the Boston Public School System. They will be living in Boston.
Amount that Gabi wished she had her
senior year back so she'd have another
chance to sit behind me in history class: