| | |
| --- | --- |
| Address: | Email: |
| Exeter, PA | Unknown |
Wife:
Separated
Children:
Alexandria (Born in 1991)
Mark Jr. (Born in 1992)
Kaitlyn (Born in 1993)

According to Mark in November of 2002, Alex is the cheerleader, Mark Jr. is the skateboarder, and Kaitlyn is the smart one. He said they all definitely have their own personalities.

Mindy (Snyder) Hinnershitz has seen Mark with his kids at the 16th & Haak Elementary School during open house when Mindy has visited her niece who also goes to the same school.
Mark's brother, Dave (Class of '88):
Dave Schwartz, Mark's brother, is married to a girl named Liz from Reading High School, and living on Perkiomen Avenue as of November 2002.
Post H.S.
Achievements:
Mark went into the Marines after high school, and was actually in boot camp with Bob Painter! Bob and Mark also served in the same reserves unit for a while. Mark is also proud to have served his country during Desert Storm, and assured me that to date he hasn't suffered any post-war syndromes! In the small-world category, Mark served in Desert Storm with Vikki Vinchofsky's step-dad.
Occupation:
Alltemp Enterprises (Heating and Air Conditioning), which matches his future career goal according to our senior yearbook!

Mark once installed a heating system in Valorie Whalon's dad's house.
Yearbook
Future Career:
In our senior yearbook, Mark listed "Air Conditioning and Refrigeration" as his future career path.
Chris Mal Notes:
Dave Thomas, a former member of our class who transferred to another school before we graduated, wound up dating Mark's sister.
<![if !vml]>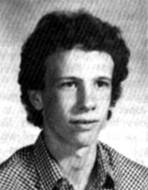 <![endif]>From the December 1984 Penn Post
OUTSTANDING STUDENT
Mark Schwartz was recently named Student of the Quarter at Berks West Vocational-Technical School. His award for outstanding work in the field of air conditioning and refrigeration was based on grades, workmanship, skills, and work attitudes.
Besides his technical field, Mark is interested in cars and motorcycles. He considers one of his achievements, a 25-mile hike. His hobby is model car building.
Some day Mark hopes to have his own business in air conditioning and refrigeration sales and service.
Number of times Mark woke up in the middle
of the night wishing he had a middle name: