Husband:
Andrew B. Wittig (married 10/01/94)
Children:
"One crazy little boy named Aaron Benjamin. He is officially nuts, which is why number two is not on its way. No, we love him so much, but he is a very active boy. It is rare that he will sit to watch any television! His saving grace is that he is a good sleeper. Aaron was born in UCLA Santa Monica hospital on June 25, 1999. We were transferred to Phoenix shortly after his birth. That is a whole other crazy story!"

Missy and Andy had their second on June 10th, 2002. "Her name is Amy Elizabeth and she weighed in at 7 lbs 6 oz. A lot smaller than my son, but still a good size baby. So far she is pretty easy going, but Aaron isn't so sure he wants her to stay. That is really a challenge, but at least he acts like he likes her most of the time."
Occupation:
Stay-at-home Mom
Pets:
O.J. and Rocky
Post HS Education/ Achievements:
Associates Degree from Goldez Beacom College ... B.A. Degree candidate in 12/96 at Eastern College - St. David's.
Note from Missy, February 2001:
"I just recently moved back from Phoenix. My husband went to grad school there and we lived there for a few years. He transferred with his company, KPMG Peat Marwick, and he has currently taken a Senior Consultant position out of their Harrisburg office. He will be covering the territory between Harrisburg and Philadelphia. He reports to different clients everyday and that is why we chose to settle back in good old Reading, PA. We are building a house in Valley View, which is located behind where Fegley's used to be in Exeter. Unfortunately, due to the weather, it will not be finished until the end of March or early April (2001). We are temporarily staying with Andy's parents in the downstairs of their bi-level."
Yearbook
Future Career:
In our senior yearbook, Missy listed "Business" as her future career path.
Favorite HS
Memories:
Home room ... Basketball games ... the class trip ... graduation.
Senior Memories (Copied directly from the Senior Yearbook):
B-Ball ... Faust fest '84 '85 ... Long live BBB, DW, EC, AC smooth MANEUVE ... zomba ... AD, BF, WOW ... camping in the rain ... Eric is looney ... Jeff '84 ... Thanks Mom and Dad and all my friends AC, GV, MD, CD, ML, RT, DT, TW, JB!
Chris Mal Notes:
Missy was the CYO Cheerleading Coach at St. Catherine's of Siena for five years.
It's a Small World:
Todd Weikel's wife is a teacher at Missy's daughter's preschool (2006).
15-Year Reunion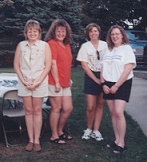 Kelly, Julie's Rent-a-date,
Julie, Steve, Christine,
Christine's Husband,
Laura, Beth & Chris
Karen Orth, Cathy Ketcher,
Missy Ryan, Beth Rosser

At midnight Missy
turned into a pumpkin
1986

Missy Ryan and
someone's hand
1984

Mr. Ruch and
Missy Ryan,
Chorus 1985

Cheerleading
1984

Mr. Choyka's
History Class
1984

Missy is a mime,
she's stuck in a box,
1986

Future Teachers
of America, 1986
Prez: Barb Yerger
VP: Missy Ryan
VP of Fund Raising:
Steven Reis
Treas: Thanh Lieu
Sec: Cyndy Jurasinski
Amount of time Missy was stuck
in her imaginary box:




hours