Location:
Email:
Nantucket, MA
(Nantucket is a little island about 30 miles off the coast of Cape Cod.)

gtsilva@comcast.net
Husband:
Geoffrey Silva. Steph and Geoffrey were married in September 2003 in Nantucket where they met and are now living. Her husband owns the restaurant on the beach where the reception was held, and guest stayed at Cliffside Beach Club Resort ... Kelly (Grim) Seyler was at the wedding and reception representing the Class of '86!
Children:
None
Pets:
Remy, a Maltese, adopted in 2005
Birthday:
May 18th, 1968
Occupation:
Was working as a nurse at St. Joseph's Hospital in Reading until leaving for Nantucket with her sister Becky. Steph is presently a labor and delivery nurse at a 12-bed hospital on the island of Nantucket.

As of Summer of 2008, Steph and Geoffrey also own two restaurants in Nantucket, and are preparing to open a 3rd in Boston.
Exciting things since HS:
Per Steph, 10/02/02: "My sister and her husband live here [Nantucket] and recently bought a home. I spend most of the summer at the beach since the ocean is at my front door, and some of the winter traveling. Last winter I spent a lot of time in Palm Beach and chartered a sailboat in the Bahamas for a while. This winter I am thinking about going to Vail for the winter and then back to Nantucket in the spring. I hope to get home to Reading for Christmas this year (2002) and catch up with some people. Living on the island has some advantages (like meeting Steven Tyler from Aerosmith walking down the street, partying on million dollar yachts, no streetlights - only stop signs - at intersections), but it sucks sometimes too (like having to take a ferry or airplane to go anywhere, no McDonalds, BK, Gap, etc. and paying too much for everything-houses start at $500,000)."

Note from Brendan Kane, 10/08/02: "Presumably by BK she is not lamenting my absence from the island..."
Christmas 2002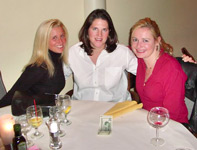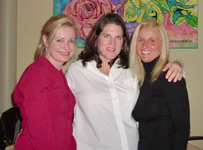 Steph Shaeff, Suzanna Post and Kelly Grim
met for dinner over Christmas 2002.
Suzanna is 6 months pregnant with her second kid in these pictures.
Nantucket Get-Together 2005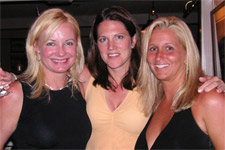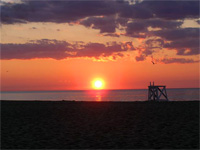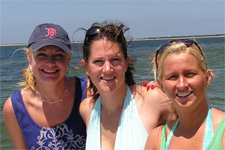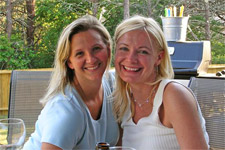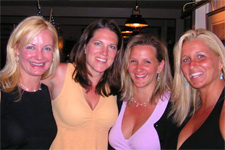 Steph and Becky Shaeff, Suzanna Post, Kelly Grim and Rebecca Lucey (Exeter '84)
met in Nantucket for a vacation in the summer of 2005.
Yearbook
Future Career:
In our senior yearbook, Steph listed "Nursing" as her future career path.
Senior Memories (Copied directly from the Senior Yearbook):
Joe Cool Sunshine ... "Soup" ... lunch conversations (cucumber, Judy) ... Sat: mall (m.m.) And movies ... looking for a "frog" ... MF party w/Wes ... Wildwood (wet spot) ... ski trip (PIG) ... "flasher" on 422 ... "Recky" ... Good times w/good friends (LW, SP, LP, JH, CJ).
Chris Mal Notes:
Stephanie was Maid of Honor in her sister, Becky's (Class of '87) wedding. Becky was married in 2000 (Announcement in the 10/22/00 paper) and will be living with her husband, Dean Miller (Governor Mifflin HS graduate) in Nantucket, Massachusetts.

Steph's sister Becky and her husband Dean had a baby in 2003. His name is Dillon.

Steph was a back-up "B" in the "B's Duet".

Steph used to cheat off of me in Anatomy and Physiology class. We used to have a lot of multiple choice questions and I think I would give her the answers by pointing eraser or spare pencil in a certain direction, or something like that. Steph claims she doesn't remember this fact. And, I guess she does have a good point - if this fact was true, how did SHE become the nurse and I became the engineer?

The picture of the group of girls at The Galley (from the Nantucket 2005 pictures above) includes Rebecca Lucey (all the way on the right at the table.) She went to Exeter and graduated in 1984. Steph met her in Reading working at St Joe's (she is a nurse). In January of 2004, Steph convinced her to move from Seattle to Nantucket because they needed good labor and delivery nurses. She did it and currently lives there. Now she is on the MPHS website!

Middle School: 1980
Looks like Tracy Hartz, Christine Jurasinski, Stephanie Shaeff, Lisa Westervelt, Lori Stoss, Beth Klempke...
Number of people who would like to
know more about the Wildwood Wet Spot story: