Location:
Email:
Manassas, VA

(moved to Manassas in October 1999,
and bought their first house in 2003.)

Rossersaurus@verizon.net
The Smith Family
(November 2000)
Chris
(Almost 7 years old,
October 2006)
Charlotte
(3-1/2 yrs old, November 2006)
Chris, Brian
& Charlotte
(Easter Sunday '06)
Connor
(3 months old,
November 2006)
Husband:
Brian C. Smith (Married in 1994)
Children:
Christopher Charles Smith (born in 12/12/99.) As of April 2001, Christopher was very busy toddling: into everything, running and climbing everywhere, generally making mischief wherever he goes.

Charlotte Margaret Smith (born 5/29/03) She was 7 pounds, 6 ounces when she was born.

Conner Morgan Smith (born 8/18/06)
Occupation:
Beth's husband, Brian, teaches music for Fairfax County (Hunter's Woods Elementary in Reston, VA) while Beth is a stay-at-home Mom! Beth's husband has spent time in New York for "Original Opera Training" where the children he teaches actually write, score, direct and act their own musicals! As Beth explained, "Brian essentially teaches two music programs to the kids – general music (like the stuff we did) and instrumental strings (the orchestra). He actually teaches for the entire Fairfax Couny school system – a method typical of pretty much the entire country except for Berks County, it would seem. He is one of FOUR music teachers in the same school – not much like Mt.Penn was, huh!"
Yearbook
Future Career:
In our senior yearbook, Beth listed "Biological Science" as her future career path.
Senior Memories (Copied directly from the Senior Yearbook):
Hoop-Hop ... Valentine's Dance ... Hershey Park SooperDooperLooper -- elephants?! Mickey D's ... Spance and Frain ... "The Rose" ... fighting with Steve ... Pals -- LS, MW, HH, BY, KC, LD ... 2-hour phone calls ... Sprawl! ... flying potholders ... Ooops!
From the June 1986 Penn Post


TOP RANKING SENIORS
ELIZABETH ROSSER plays the flute for the band, is a member of Y-teens, Science Club, chorus, and NHS. Elizabeth played volleyball her junior and senior years. Her future includes going to Lebanon Valley College where she will major in psycho-biology. Elizabeth received a $3,000 United Methodist Bicentennial Scholarship.

Chris Mal Notes:
...and my favorite memory: "Medic!"
15-Year Reunion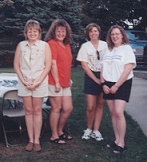 Kelly, Julie's Rent-a-date,
Julie, Steve, Christine,
Christine's Husband,
Laura, Beth & Chris
Karen Orth, Cathy Ketcher,
Missy Ryan, Beth Rosser
Dave Dunkelberger,
Karen (Orth) Rimby,
and Beth (Rosser) Smith
Amount of Cheese that Beth owes me: