Mt. Penn High School
1985 Varsity Softball Team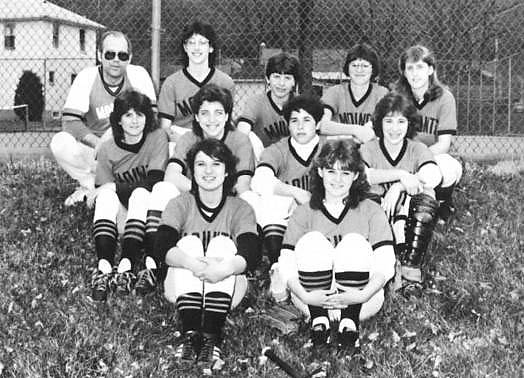 Top Row: Coach Roger Fegely, Dennis Albrecht, Krissy Bukowski, Peggy Monroe, Steph Sosh
Middle Row: Sally Ford, Diane Churan, Roberta Schreiber, Karen Denby
Bottom Row: Audry Acker, Cathy Ketcher

MVP: ROBERTA SCHREIBER, Most Improved: KAREN DENBY
RECORD: 3-15
MPHS
Opponent
OPPT
4
Brandywine
10
3
Sch.Valley
9
16
Fleetwood
26
13
Holy Name
16
1
Kutztown
15
0
Tulpehocken
20
7
Holy Name
18
13
Exeter
7
23
Daniel Boone
5
4
Twin Valley
22
4
Central Catholic
15
2
Oley
20
8
Wyomissing
14
1
Twin Valley
20
11
Daniel Boone
18
11
Central Catholic
17
2
Oley
12
12
Wyomissing
10
June 1985 Penn Post
Although the Mounts came back during the end of their season, they still managed to salvage two of their league games. They beat Daniel Boone and Wyomissing.
According to Mr. Fegely, head varsity coach, two major keys to a good softball team are hitting and fielding. He believed that due to graduation and other problems, people had to be moved to new positions, which led to numerous fielding mistakes. To continue, the hitting was weak only in the sense that they could not get that one hit when they needed it.
If the key to success is improvement, then this year's team was successful. Next year, with everyone returning except the only senior, Bert Schreiber, they can hope to see more improvement.
Mt. Penn High School
1984 Varsity Softball Team


Top Row: Coach Roger Fegely, Cathy Ketcher, Amy Schnader, Jen Miller,
Deanna Spohn, Denise Malecki, Bert Schreiber
Bottom Row: Diane Churan, Karen Denby, Kelly Clark, Audrey Acker, Jackie Savitz

May 1984 Penn Post
Softball-Slow to Start
As of April 27 the softball team has played only four games. The first game was to be on March 30 at Governor Mifflin. This game, like so many others, was rained out. The first game played was at home against Brandywine. The season didn�t get off to a good start as the Mounts lost 12-3. The next team Mount Penn faced was Kutztown. The Mounts were romped by an excellent Cougar team 24-6. League games began on April 26. The team�s spirits were lifted as they coasted to a 10 run victory over visiting Wyomissing. The following day, the Mounts traveled to Fleetwood. They fought hard, but their efforts were not enough as they fell to the Tigers 10-7. Though the majority of the team is young and inexperienced, they will hopefully emerge as a strong team in their division.
The JV softball team has yet to play a game, again, because of rain. Six games are scheduled to be played. The team is also young, and hopefully its members will develop the skills needed to be a good team.
- Jenny Miller
Mt. Penn High School
1984 JV Softball Team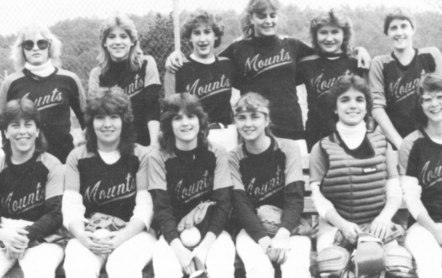 Top Row: Dawn Doskus, Laura Schnader, Jen Eckel,
Amy Miller, Traci DeCarlo, Steph Sosh
Bottom Row: Sally Ford, Kathy Ford, Kim Steiger, Jen Schickler
Mt. Penn High School
1983 JV Softball Team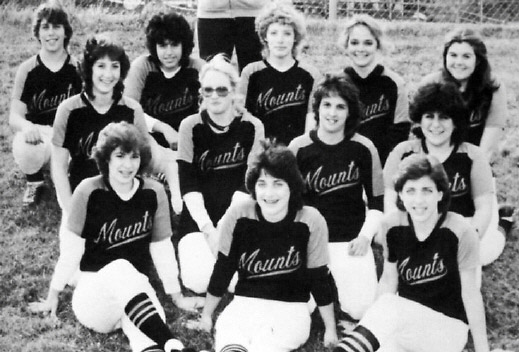 Top Row: Robin Franckowiak, Jackie Savitz, M. DiGiacomo, J. Miller, Tracy Rogers
Middle Row: Vickie Straka, Dawn Doskus, Kelly Bonnema, D. Hill
Bottom Row: Karen Denby, Kelly Clark, Diane Churan