Max - Sands Wedding Announcement
married April 25th, 1998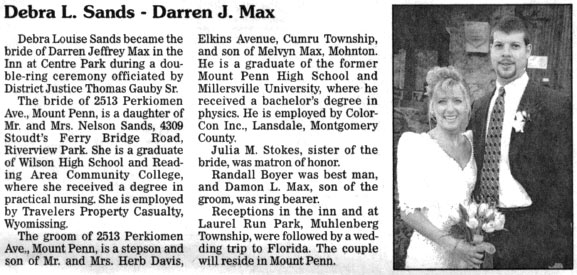 Pets:
1 dog named Rusty
Post H.S.
Education & Achievements:
B.S. in Physics from Millersville University
Occupation &
Where I Work:
Had been working as a Process Engineer at Colorcon, now has a new job.
2003/2004 ELEMENTARY
LEAGUE CHAMPIONS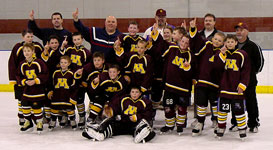 Mifflin Ice Hockey
Darren's son Damon played on Mifflin's Ice Hockey team in 2003/2004. Proving that it's a small world, Dean Stremba and Eric Groscup were also on the same team. Dean's Dad, Steve, is my team partner at work, and Eric's Dad, Tom, used to be one of the supervisors of the department that I'm in before he left to form his own engineering firm. Eric is in the top row of kids all the way to the left, Dean is in the top row of kids 3rd from the left, Damon is on the far right, Steve is top left, and Tom is the guy without a hat on the right. The Mifflin Hockey team has their own website. CLICK HERE for more information.
High School
Career Goal:
In the senior yearbook, Darren lists "Engineering" as his future career path.
Favorite H.S.
Memories:
My first sexual encounter
Exciting Things
Since H.S.:
Went to South Dakota, drove to Florida and had a child (not all at the same time, and not necessarily in that order).
Ideas for future reunions:
Have it in Wintergreen, Virginia
Senior Memories (Copied directly from the Senior Yearbook):
RB ... Brick ... Upper Dauphin ... Midnight Swims -- RB, ES, JP ... Big Splash ... Night School -- JP, RB, ES ... Philly -- LP, JP ... RB ... B-Ball ... B's Duet ... Box at Suzanna's ... Finals at Leon's ... RB -- Go IN.
From the March 1986 Penn Post
SENIOR OF THE ISSUE


Darren Max, our Male Senior of the Issue, is a starting guard on our boys' basketball team. He has played basketball since ninth grade, playing his last two on the varsity squad. Besides basketball, Darren plays baseball which he also played since ninth grade.
In addition to participating in sports, Darren is a co-editor of the sports section of the yearbook and is the treasurer of the Boy's Leader Corps.
Darren's favorite subject in school is Calculus. He is planning on a college education in the field of physics.
Darren's hobbies include playing basketball and being with friends. He says that he will miss being close to his friends everyday after he leaves Mt. Penn.
- Danny Hafetz
Chris Mal Notes:
Darren was a driver in my wedding.

Due to the lack of Jewish people and the large population of Indians in South Dakota, when Darren visited there he was affectionately known as "Jew-ronimo."

I'm guessing that when most people read Darren's favorite memory from high school, you were thinking to yourselves, "Yeah, actually, now that I think about it, that's my favorite memory too!" You bunch of perverts.

Darren and I played softball together every Sunday from 1993 thru 2000.

Randy and Colleen Boyer are Darren's son, Damon's, God-parents.

Darren was one half of the B's Duet, and co-writer of the hit single "I Can't Believe It." If I remember right, the flip side of the single was "La Bondero de Astados Anitos Me Te Gusta Entonces Leer Leer Leer" (which translated means "The American Flag, I like to Eat, Read Read Read." It's deep, you wouldn't understand.)

The first time I ever met Darren's wife, Debbie, was to watch the Flyers second to last play-off game in 1986. As a puck squeeked through Hextall's legs she yelled, "Woooah! There's a crotch burner!" We've loved her ever since.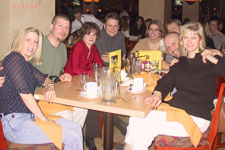 I am also quite fond of Debbie's corn salsa. It is to die for! I'm telling you, once you eat her corn salsa, you'll never crave regular salsa again. Her corn salsa is God's greatest gift to this world.

Question - just remembered something - neither Darren nor I were in the Nation Honor Society. Why not, damn it? 15 years later, I demand an answer. We were both in the Top 10 in the class, what gives?

Darren's son, Damon, was the ring bearer in Erin Miller's (Class of '91?) wedding in 1999.

The picture shown to the right is of Deb and Darren Max, Collen and Randy Boyer, Kirsten and Carter Cheskey (well, the top of Carter's head), and me and Bev - from our trip to Viva Good Life Bistro and Lounge in Reading near the VF outlets, 1/10/04. If you haven't been there yet, GO! Awesome food.

In the 1983 Senior Class Will (found in the June 1983 issue of Penn Post), Jordan Max left his right to be a cynic to Darren Max.

Not only does Darren share a birthday with his wife, but he also has the same birthday as former classmates Dave Knorr, and the late Kenny Hoverter.
Great Adventure '88

He seems to have
an Invisible Touch?

Half of MPHS '86 does
Great Adventure

Hot sweaty men

Ying and Yang
1984

Darren displaying
his 3-1/4" vertical
leap, 1986

Ryan, Darren,
Barry, Ron
1985

Darren & Brendan
learning CPR,
1986

Mullet
1986

Yearbook Staff
Editors
1986
Sports-Darren
Sports-Diane
Seniors-Lisa P.
Faculty-Cathy K.
Faculty-Thahn
Activities-Marta
Underclassmen-Karen

Boys Leader
Corps Officers
1986
1984 JV
Basketball Team

1985 Varsity
Basketball Team

1986 Varsity
Basketball Team
Number of weeks that "I Can't Believe It"
remained in the #1 spot on the Billboard Top 100: