Occupation:
Jeff is working in Conshohocken at Lonza Inc., a pharmacutical company. (Jeff makes drugs!) He likes his job and because he works 4 twelve hour days allowing him to spend more time with his family.
Children:
Derek Jeffrey (4-16-94) - Derek was in the Kutztown paper was "Student of the Month" for December of 2004. In the summer of 2007, Derek had surgery on his knee, and has been rehabbing it to be ready for basketball. Unfortunately he had to have surgery again in early 2008 to remove two tacks that didn't disolved from the first surgery. As a result he wasn't able to play ball for school. He was able to finally get out on a field again Summer 2008 when he played for Fleetwood Junior Legion.

Morgan Renee and Jason Scott (twins born 4-19-99) - Per Debbie 8/26/08, "Morgan was diagnosed with type 1 diabetes in May of 08. She is doing well and will hopefully be going on the insulin pump by may of 09. She is now giving herself 4 shots a day so the pump will be a welcome relief. Jason is great, crazy as always. He is a funny boy and is following in big brother's footsteps by playing baseball."
Pets:
Buddy, a dog who was adopted on Easter of 2005

The Petersens used to have three cats named Jazzy, Speedy and Peachy. (Please note that the initials of the three cats are the same as Jeff's initials!) All three had to be given away because Derek started developing allergies. Prior to that they used to have 1 gigantic cat named "Pudge" who was put to sleep around 2001.
Nicknames:
J-Pa
Exciting Things
Since H.S.:
If Jeff had time to fill out his 10-year reunion survey he probably would've written things like, "Hung out with Chris Malinowski a few times. I've even had him over to my house on my birthday. I played Softball with Chris for about 5 years. Chris was even at my wedding - I'm sure you're all jealous, but I can't help it, I like Chris better than all of you. Oh, yeah, and I got married and had a kid. That was pretty cool, too."
Future Career:
Jeff listed "Business" as his future career path in the senior yearbook.
Senior Memories (Copied directly from the Senior Yearbook):
Great times with D.M., L.P., E.S., R.B., at H.S. ... Where's Puma University? ... Dec. 3, 1983 ... Poker Night ... Last one in ... Midnight swims ... assume the position

From the December 1985 Penn Post
OUTSTANDING SENIORS
Jeff, our Male Senior of the Issue, is one of our outstanding athletes. He was also chosen King at Homecoming this fall. Jeff is very active in sports; his favorite sports are baseball, basketball, and soccer. In school, Jeff likes Advanced Chemistry and American government classes. He is a member of Boys' Leader Corps, the Prom Committee and is a varsity baseball and basketball player.
In Jeff's spare time, he likes to go to the movies, play golf, and go out with his friends and his girlfriend.
Next year Jeff will be attending Millersville State College, majoring in business.
- Julie Hyman
Chris Mal Notes:
Jeff was voted the "Most Athletic" male in the MPHS Class of '86. He was the only freshman to make the varsity baseball team, and batted .296 that year.

Wanna see something funny? Check out Page 3 of our senior yearbook - Jeff apparently wasn't paying attention when the 4th grade class picture was taken.

Jeff and I played Softball together from 1993 thru 1999 when Jeff's knees gave out. Jeff ranked 7th on our Sunday team's "All-Time Innings Played" list.

Jeff is still a HUGE St.Louis Cardinals and St.Louis Rams fan - and let it be known that he was a Rams fan LONG before the days of Kurt Warner.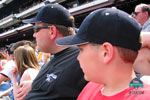 Jeff once picked up Dave Knorr and threw him 10 feet during gym class.

Jeff used a bunch of the tickets from my Phillies Sunday season ticket package in 2003, and has tickets for 3 games in 2004. This year, however, I have 4 seats. On 4/18/04, Jeff and his oldest son Derek were at the game with me and my Dad. The picture to the left of from that game. CLICK HERE for more info and some great pictures that I took during the game.
Great Adventure '88

He seems to have
an Invisible Touch?

Half of MPHS '86 does
Great Adventure

Hot sweaty men

Chris invading Jeff's
personal space

Jeff squatting
1984

Soccer
1986

Jeff & Barclay at the
Valentine's Dance
1985

Bill LaBate and
J-Pa with a
caterpillar on his lip
1984
1985 Varsity
Basketball Team

1986 Varsity
Basketball Team

1986 Varsity
Soccer Team
Number of times Pudge eats every day: