Location:
Email:
Mt.Holly Springs, PA

(In cronological order, they have lived in South Carolina, Pennsylvania, a tiny island in Italy called LaMaddalena, West Virginia, Georgia (Jeff worked on a nuclear submarine named "The West Virginia" for 2 years while they were there), Mechanicsburg PA, Mt. Holly Springs PA then back in Italy thru June of 2007. They are packing up in Italy and leaving for the U.S. on 6/08/07.)

WendyCorliss@hotmail.com
Husband:
Jeffrey M. Corliss (married 11/24/90). Jeff is retired from the Navy as of 2007. He served for over 21 years.
Children:
Andrea (2/14/95)
Brad (9/24/96)
Ryan (5/04/98)

The picture to the right is a rather interesting picture of Wendy's daughter Andrea (2005) sitting in front of the sunlight coming through a window in a dark room.
Pets:
1 dog: A beagle named Dixie, but is living with Wendy's Aunt and Uncle until they get back from Italy.

2 cats: Theo and Leo

Sad mouse story from Wendy, 11/18/04: "We had to find homes for our 2 mice, Harry and Potter before we left [for Italy]. Potter died last month. He suffered from Obsessive Compulsive Disorder (OCD). I should have taken him to mouse therapy but I rejected it. He literally scratched his ears off, along with the hair on his neck, bit half his tail off and eventually (according to my friend who took him), scratched his eye so bad that it got infected, which caused his demise. Pretty darn gross, eh?"

Even more sad news, 3/04/05: The other mouse, Harry, also passed away. Harry and Potter are now reunited in mouse heaven. Sniff, sniff...(sorry, I can't type anymore...can't see through the tears.)
Birthday:
Wendy's Birthday is October 21th
Achievements:
Bachelor's in Elementary Education. Associates in Gerontology.
Where I work:
Wendy was a substitute teacher in her kid's school in Mt. Holly during the 2003-2004 school year. She might do something in Gerontology when they return to the U.S. in 2007.

Wendy was working full time in Italy teaching 3rd grade at an elementary school in the first half of 2005. She then cut back to working as a substitute through early 2006.
Favorite H.S.
Memories:
Cheerleading, getting together with friends.
Note from Wendy just prior to the 10-Year Reunion in 1996:
Hi Chris! Sorry I can't be there. Hope all goes well and please tell everyone I say a big hello from LaMaddelena, Italy! Keep in touch! Wendy.
From a Letter I received from Wendy, 2/09/97:
"...Andrea will be 2 on February 14th and Brad will be 5 months on February 24th - 19 months and 10 days apart. it's So much fun having children! Ya gotta have some! I am even attempting a birthday party with 6 other toddlers - God help me!

We are planning on transferring from here (Italy) on June 6th (1997). We are going to be stationed in Sugar Grove, WV. We've already bought skies - cannot wait! I don't know if you know this, but we are on a tiny island above Sardinia. It's considered Italy, but we are far from the mainland. It has definitely been an experience to remember. I had Bradley in the Italian hospital here so he's dual citizenship. None of the nurses or doctors spoke English - I even had him C-section, as was Andrea. Pretty brave, eh?!

...We've been to Italy, Austria and Germany twice. I could live in Germany, no question. You have to go there at some point in your life. Last December (1995), Sally (Ford) flew to Rome and we took an overnight Ferry w/car to meet her. It was so good to see someone from home. My mom came over in September (1996) when I had Brad.

Jeff and I have been married 6 years, November 24th (1996). It goes very fast. I'm glad we waited to have kids. I'm also glad we've had the chance to travel - we have nine more years to go until he retires. He's a lieutenant in the Navy. My career will be on hold for a while which doesn't bother me in the slightest! I don't know how moms balance a career and raise children..."
Miscellaneous Notes:
Wendy's parents no longer live in Pennside. They moved to Mechanicsburg in 1995 due to a job transfer. She got to go down her old street in 2002, though, and even was able to go into her old house.

She still keeps in touch with Kelly, Kathy, Sally and Karen, and would love to hear from other people.

Wendy and her family spent 2 weeks in Germany in the Fall of 2005.

Wendy has been able to do a lot of travelling since she's been living in Italy. They will be in Dublin to celebrate St.Patrick's Day in 2006. She's been to Germany a few times, Luxembourg once and took a vacation to Croatia in the Summer of 2005. In 2006 they went to Corfu, Greece and Sicily.
Chris Mal Notes:
Notice that Wendy has studied Elementary Education and Gerontology. I had to look up Gerontology - according to Webster's it is "the study of aging and the problems of the aged." Those are two complete opposites of the spectrum aren't they!

Wendy was my first Antietam school district "crush." When I came over from St.Catherine's in 5th grade, I had a major crush on Wendy. I think I had Brendan ask her to "go" with me when we were at Camp Adahi. She agreed (these were apparently a few years prior to my awkward years), but then I was mortified to talk to her so I avoided her like the plague. It's a good thing I grew out of that dating technique!

Wendy and I had what we called our "Dictatorship", and although I can't say I quite remember what that was all about, I'm sure that it was very cool.

Wendy and I used to collect Bazooka Joe comic strips and planned on one day trading them in for a really cool prize. I don't think we ever made our goal. CORRECTION! This info just in from Wendy, 10/22/04: Wendy and I did, in fact, meet our Bazooka Joe comic strip goal by the end of the year, and planned on getting a very cool Pear Pin. Wendy's Mom was gracious enough to send in the check for postage and handling to Bazooka, along with all of our collected comic strips that came with the gum. With great disappointment, Bazooka actually returned the comic strips because they were out of Pear Pins!

Wendy was a bridesmaid in Sally (Ford) Stewart's wedding in 1999.

Page 136 of the senior yearbook is a full page picture of Wendy dressed up like a pig (not a mouse). I would have scanned it, but a couple people wrote all over that page. Plus there are advertisements all over it - for Antietam Dental-Medical Center, Cramp Funeral Home, All Star Realty and Macaronis Travel.
Senior Memories (Copied directly from the Senior Yearbook):
NYC ... 42nd Street ... C-Camp ... lifting ... A-Field ... Prom 10-11 ... MPS ... after work at PDI ... history with SF ... KC and KF parties, Bermuda ... Vermont ... lost with West ... McD ... Silo ... Dance Marathon ... Homecoming ... Hayride June 15, 1985.
From the May 1984 Penn Post
<![if !vml]>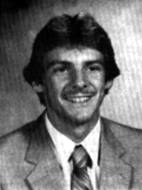 <![endif]>SENIOR OF THE ISSUE
This issue�s male Senior of the Issue is Jeff Corliss. Last year at this time Jeff was a new student trying to fit in with the crowd. At his old school in New Jersey, Jeff was in the modern language club and received 2 varsity letters and a jacket for wrestling. Jeff was the co-captain of the wrestling team in his junior year.
At MPHS Jeff is the wrestling team and entered the District Wrestling Tournament in March. He has been on the Penn Post Staff since he came here. Jeff also models at the Model�s Institute for Chess King and Athletic Attic.
Jeff�s future plans include Kutztown University, where he will major in communications or finance.
- Dawn Hill
Number people who are jealous of
Wendy because she got to "go"
with Chris Malinowski for two weeks in 6th grade:




(Wow, that's a lot of people!)