The Dunkelberger Family
(September 2001)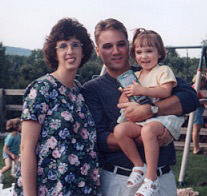 Wife:
Moria Lyn Feryo (Married in 1996. Their announcement was in the 11/03/96 paper - see below!) Moria is a graduate of St. Clair High School and is employed by the Commonwealth of Pennsylvania in the Office of Vocational Rehabilitation (thatís a mouthful, huh!) in Muhlenberg Township.
Children:
2 daughters - the youngest is Sara Marie, born 11/03/01.
Occupation:
Culinary Arts Teacher at the Berks Career & Technology Center East in Oley according to his wedding announcement in 1996.

According to Cathy Ketcher, as of July 2001, Dave is a chef for Chef Alan's cafeteria at Parson's.
Wedding Notes:
Fellow Class of '86 graduate, John Mazzo was an usher in Dave's wedding.
Feryo - Dunkelberger Wedding Announcement
from Reading 11/03/96 Eagle/Times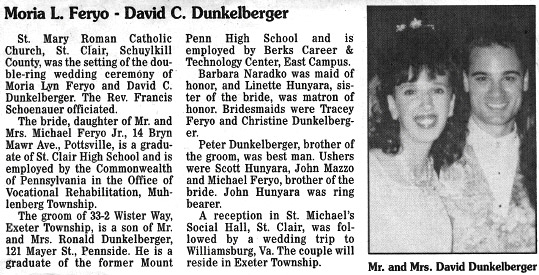 Senior Memories (Copied directly from the Senior Yearbook):
Bus rides to Vo-Tech ... New York trip ... Soccer practices ... Gym class ... Helping Mr. R ... Thanks a lot Mom and Dad.
Chris Mal Notes:
Dave was one of eight people in our class to wear his Cub Scout uniform to school for the class picture in 4th grade. Others included Eric Delewski, Tom Malecki, Jason Miller, Evan Spohn, Jeff Greene and Steve Kunkel.

Dave's family are friends with the family of the best man in my wedding, Drew Gallagher.

I just noticed that it looks like Dave's last name is spelled wrong throughout the yearbook. He is Dave DunkelbUrger in the yearbook, but Dave DunkelbErger in his wedding announcement.
Dave Visits GPU:
In October '98 I opened up my weekly GPU Newsletter at work called "Connect!" and what do I see? A picture of five teachers - the first of which is Dave Dunkelberger. Apparently 15 teachers from Berks County schools were visiting GPU to learn about the skills students will need for working in the "real world." 300 Berks teachers were visiting various local businesses. Dave was even mentioned specifically in the newsletter: "Dave Dunkelberger, a culinary arts teacher from the school (Berks Career & Technology Center East in Oley, PA) said their visit reinforced their continuing need to stress to the students the importance of teamwork, dependability and other work responsibilities."

From the December 1985 Penn Post
OUTSTANDING VO-TECH STUDENT
Dave Dunkelberger has been named as one of the Vo-Tech students of the quarter due to his excellent work in the field of food preparation and service.
Besides working with food, Dave is also interested in history, working with computers, and baking. His interests out of school include traveling and swimming.
Dave also has plans for his future. After graduation, he hopes to attend Penn State University and major in the field of business management.
--Kathleen Petruska
Number people who wish their
spouse was an expert in "Culinary Arts":