Location:
Email:

Severna Park, MD...

In July 2005 the Suzanna and her husband signed a contract to build a house in Annapolis, MD. The house will have a view of the Severn River. When the builder found out about Suzanna's background, they allowed her to completely redesign the house so they will be getting exactly what they want! ... As of May 2006, they had sold their previous house, and are temporarily living in a rental home in Crownsville, MD, which is a 25 minute drive by car and 5 minutes by boat from where they are building.

(They were previously living in D.C., Kansas City, then New York City, then Potomac, MD...and soon Annapolis, MD)


SPBarlow@comcast.net

Colette & Troy, late 2004


Troy, 1 year old, November 2001


Troy, 14 months old, January 2002
Husband:
Myron (married 9/02/95)
Children:
Troy Christopher (Born 11/02/00)

Colette (Born 1/16/03) - Colette came SEVEN weeks early, and was just 5 pounds - 3 ounces, 18-1/2" long when she was born. She was able to come home from the hospital on 2/15/03.
Post H.S.
Education/
Achievements:
University of Virginia - Bachelor of Science in Architecture, and Bachelor of Art in Studio Art
Occupation:
"I have been on an extended maternity leave from my previous job as a project manager in an architectural firm.

I had planned to go back part-time shortly after Troy's birth, but now it looks like I may just wait until we're done having kids.

I have done some architectural and interior design consulting projects, but most of my time is spent taking care of Troy."
Pets:
None
Since Graduation:
Had a great wedding with a honeymoon that involved dodging hurricanes.

"At the time of our ten-year reunion, my husband and I were living in Brooklyn Heights, NY.

Shortly after that, we moved to Kansas City, rented for a year, bought a house, renovated the house, and sold it after less than a year.

Then we moved to DC, bought a house, renovated the house, and sold it after three years.

Now we are in Potomac, Maryland (just outside of DC) and hope to stay in this house for a while.

We had originally planned to stay in Kansas City for five years, but that changed because of my husband's job.

I love Kansas City and would recommend visiting or living there.

The neighborhoods are beautiful.

There is a lot to do even during the week.

Great music, great restaurants, and the people are very friendly.

I'm happy to be in DC.

This is where we have always wanted to live and we plan to stay for a long time.

The whole time we were moving from city to city, I was working full time+, from home, for an architectural firm in Miami.

I traveled to Miami several times a year, but was able to do most of the work at home with the help of AutoCAD, FedEx, the Internet, and Bell Telephone.

Up until Troy was born, we spent a lot of time renovating our homes.

We did a lot of the interior work and landscaping ourselves.

With the moves and renovation work, we have not done that much traveling.

In addition to traveling for family visits, we have vacationed in northern California and the Bahamas.

After moving to DC, we bought a Catalina 27 sailboat that we keep in Annapolis.

This summer we plan to do some overnight cruises as well as an overnight race.

My husband has been racing and this summer I will be racing for the first time on this boat.

The most important thing we've been doing is raising our son.

It has been the most difficult thing I've ever done, but totally worth it.

We hope to have several more kids."

As of 2005, Suzanna started painting again. Oil was always her favorite, but because of the clean-up time involved and having kids around, she is now learning to work with acrylics.
Suzanna's brother, Ethan:
Suzanna's brother, Ethan, is married to a girl named Lauran. They and their son, Aaron, who turns 1 in early 2005, are living in Orange County, California. He is working as a web-site developer.
Nantucket Get-Together 2005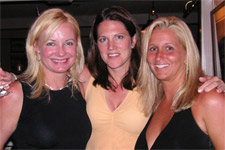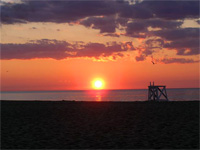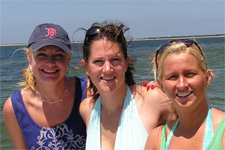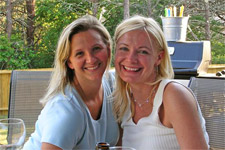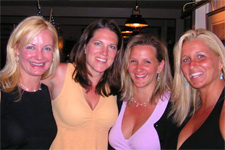 Steph and Becky Shaeff, Suzanna Post, Kelly Grim and Rebecca Lucey (Exeter '84)
met in Nantucket for a vacation in the summer of 2005.
Christmas 2002

Steph Shaeff, Suzanna Post and Kelly Grim
met for dinner over Christmas 2002.
Suzanna is 6 months pregnant
with her second in these pictures.

Easter 2003

Kelly (Grim) Seyler, Kelly's daughter Megan and son Baily,
Suzanna (Post), Suzanna's son Troy,
Lisa (Westervelt) Kiedeisch's daughter Alexa
holding Suzanna's daughter Colette, and Lisa.
Favorite H.S.
Memories:
Hanging out with friends ... Lunches ... Great teachers in Math, Art and Science classes ... Ski Trips.
Yearbook
Future Career:
In our senior yearbook, Suzanna listed "Architecture" as her planned future career path.
Senior Memories (Copied directly from the Senior Yearbook):
Big and Small Club ... Trudy (VJ)? Judy? Prudy ... Skyline 145 ... Lost Reading (RPC) ... Wildwood ... Hooters (WCU) ... Ski Trip ... Silo ... MM/Movies ... 422 Lost Bet ... NYC -- Ichabod's ... Great Parties ... Super friends! MW, SS, LW, JH, WC, LP, KG, JB, CJ.
From the June 1986 Penn Post


TOP RANKING SENIORS
SUZANNA POST is president of the Student Council, vice-president of NHS, and a member of Y-teens and Girls' Leader Corps. Suzanna has won honorable mention for both the Women in History Billboard Contest and the Woman's Club Art Com¬petition. She placed 1st in both the National Science Olympiad and the PA Mathematics League Contest. This year Suzanna received National Merit Science Awards in biology, chemistry, and physics, and a certificate of merit for high performance on her SAT's. Suzanna will attend the University of Virginia and major in architecture.
Chris Mal Notes:
Suzanna works for Pascual Perez?!! I was wondering what happened to that guy - wasn't he the Major League pitcher who played for the Braves, Expos and Yankees and had all kinds of drug problems? Who'd have thought he'd wind up working in Architecture. I guess when you've made enough money and snorted enough cocaine, you can do just about anything you want in New York.

Suzanna was once a proud back-up Bee for the B's Duet.

Suzanna was voted "Most Talented" female in the class of 1986. And who was "Most Talented" male???

Based on the writing on her survey and check for the 10-year reunion, Suzanna still has the coolest printing in the class.

Suzanna, Stephanie and I enjoyed spending time talking about Saturday Night Live - especially in 1985. If I remember correctly I was quite good at impersonating "Ed Grimly."

According to the "Senior Memories" section of the yearbook, Suzanna was the "Baseball Manager" in 10th grade. I could've sworn it was Bill Dengler, but I guess that would explain why we never won any games.

One day when Suzanna's parents were out of town she had a party at her house. Most of the class attended, or so it seemed. The next day, a large portion of the class was absent. After word leaked out why so many people were not in class that day, Frank Orlando even asked a few people who were in class how the party was.

On 5/04/02, Suzanna was at the 16-year Class Dinner at 3rd & Spruce with her son Troy. Her husband had a boat race that day and as unable to attend. Troy drank four bottles of orange juice that day, eliminating any chance of Scurvy. Troy also has a way-cool "Latch Board." Also in attendance were: Cathy (Ketcher) Rowley and family, Lori (Czarnecki LaPearl) and family, Barb (Yerger) Weston and family, Karen (Orth) Rimby and family, plus Bev and I.

In October 2002, Suzanna found a cracker in the CD-ROM drive of their home computer. The main culpret would seem to be their 2-year old son Troy, but there isn't a lot of concrete evidence at this time.

Suzanna had Kelly Grim and Lisa (Westervelt) Kiedeisch and all of their kids over for Easter in 2003. (See the picture above!)

Suzanna Post, Marta Weitz and Kate Chimenko dressed up and did a Mother-Goose sing-along for Antietam Gong Show in elementary school.
From the December 1985 Penn Post

OUTSTANDING SENIORS

Suzanna, our Female Senior of the Issue is well known around the school for her art work. She likes playing raquetball, doing gymnastics, and running. In school, Suzanna's favorite subjects are art, math and science. Suzanna is president of Student Council, vice-president of National Honor Society, and an active member of Modern Language Club, Y-Teens, Girls Leader Corps, and College Bowl. She is also doing the art work for the yearbook.
Suzanna likes doing things with her friends in her free time.
Suzanna's future plans are in architecture. She would like to study at Cornell or Syracuse University.
- Julie Hyman

Student Council
Officers, 1986
Prez: Suzanna Post
VP: Kelly Carter
Treas: Janine Lysczek
Sec: Sam Laturza

Physics makes
us smile!
1986

College Bowl 1986
Seniors in front row:
Suzanna Post
Christine Jurasinski
Brendan Kane
Jason Miller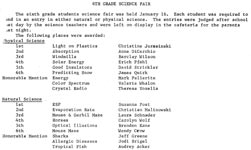 6th Grade Science Fair
CLICK HERE to see a
larger version of the winners.
Number of times more talented Suzanna and I
are compared to everyone else in the class: