2022 DRAFT DATE:
Friday, March 25th, 2022
5:30PM

DRAFT LOCATION:
Ellen Gallagher's house...
31 Pine Woods Court
Reading, PA 19607

Since some of you
forget every year:
You must draft
26 players for $290
(2) C, 1B, 1/3, 3B, 2B, 2/S,
SS, IF, (6) OF, U, (10) P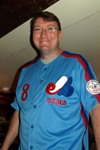 ESL ROSTER FREEZE:
Saturday, March 19th, 2022
NOON

You may retain up to 16 players. You must also note any contract extensions at that time. You must also note any rookies that you will retain on reserve. You may submit your freeze list early - you can change it as many times as you like up until the dead-line. However, once you submit your list, you may no longer make any trades until after the draft.