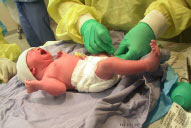 Birth Statistics:
Date: February 11, 2002
Time: 3:24 a.m.
Where: Lehigh Valley Hospital
Weight: 6 lbs, 15-1/4 oz
Height: 20-1/2"
Eyes: Dark Grey
Hair: Way more than Daddy
Star Sign: Aquarius
Other People Born
on February 11th:
Ernie Comisac
Thomas Edison
Sidney Sheldon
Max Baer
Jennifer Aniston
Eva Gabor
Bert Reynolds
Matthew Lawrence
Brandy
Jeb Bush
Tina Louise (Ginger, Gilligan's I.)
Leslie Nielson
Todd Benzinger
Sheryl Crow
Segio Mendes
Trends of the Time:
Median family income: $47,562
Average new home: $181,300
Average new car: $17,299
Half gallon of milk: $1.55
Loaf of bread: $1.09
Minimum Wage: $5.15
U.S. Population: 286,432,449
#1 TV Show: Friends
First Class Stamp: 34 cents
Unemployment Rate: 5.8%
Harry Potter books
U.S. continues search for
terrorist Osama bin Laden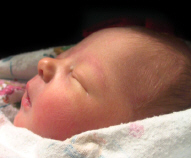 About the Name:
Like "Julie" with an "O." It also rhymes with Goalie, Holy, cousin Nicolie, or as we like to call her "Rolly-Polly Jolie Stromboli." It's not Jo-LEE, and it's certainly not pronounced "Jolly!"

I've come to learn that Jolie in French means "beautiful," which is, of course, quite fitting.

Where did we find the name? Bev found it in a catalog for quilts, of all places. They were selling three styles: An Emma quilt, an Olivia quilt and a Jolie quilt.

Strangely, at the time we got the catalog, our friends Kirsten and Carter had two girls named Emma and Olivia with a third on the way. We would have been a little suspicious that they were closet quilters if the third kid was named "Jolie"! (Actually, it was close, though, they named her "Julia.")
The Pregnancy
Bev had an uneventful pregnancy until the last month, during which we made four different frantic trips to the hospital. Two of those trips
resulted in spending six days in the hospital overnight under observation. Bev was diagnosed with "Placenta Abruptia." In an effort to get us to full term, Bev was put on strict bed rest for the last five weeks to prevent the problem from getting worse.


The Delivery
The doctors had previously decided that they would induce at exactly 39 weeks starting Sunday night, 2/10, at 9 p.m. That process began, but Bev started having more problems soon after. At 1:30 a.m. the baby's heart-rate jumped from the 140's to the 170's and stayed there for 45 minutes indicating that the baby might be in some sort of distress. Our doctor was called in from home and decided to do an emergency C-Section.

Upon getting to the nursery, I was happy to note that all of the other babies looked the same, except for Jolie who is clearly cuter than all of the rest of them.
After the Delivery
Just to make her last month even more difficult, Bev developed an
upper respiratory virus a week before all of this, and had a nasty cough. As you could guess, between the virus making her cough, an impressive incision in her stomach from the C-section, the nauseousness caused by the anesthesia wearing off, no more than an hour of sleep before the labor began, the surgery in general, and her body adjusting to no longer carrying a baby - Bev was completely spent.

Further complicating matters, just before we were to leave the hospital, they removed the staples in Bev's stomach. A few minutes later, Bev coughed, and the incision opened. We had to stay another night in the hospital, and home care had come to the house to check on it daily and re-insert new packing for more than a week!
THE LATEST NEWS!
7/07/06 - We went to Camel Beach water park for the 2nd year in a row, but this is the first time Jolie went down one of the water slides. It was also the 2nd, 3rd, 4th, 5th, etc. time as she asked to do it over and over and over again.

7/05/06 - Jolie caught her first lightning bug all on her own. She was very excited.

9/24/05 - Jolie got dressed on her own for the first time, and she did it without prompting.

9/17/05 - Day #1 of Dance Class (Ballet and Tap).

8/06/05 - Jolie bowled for the first time. (Mommy helped her push the ball down the lanes.)

4/23/05 - Jolie started swim lessons at "Aquabilities."

2/12/05 - Jolie got her ears pierced at the Berkshire Mall.

1/24/05 - Jolie's first time at the dentist. She told me that she was really good and said "I didn't move a whistle." (I think she meant "muscle.")

1/22/05 - In the middle of watching The Incredibles at the Discount Cinema Theater, while sitting on my lap, Jolie gave me a big hug and said "Daddy, you're my best friend, ever."

1/06/05 - Jolie's first day sleeping in a bed instead of a crib.

12/01/04 - Jolie is finally out of diapers. We have her in "pull-ups" to sleep, but she can be trusted to be in just underwear while she's awake, and generally is dry when she wakes up too. We're just about totally there.

11/13/04 - Jolie's first time on a plane. We flew out of Allentown to Orlando for her first "real" vacation. The next 4 days we spent at Disney: MGM, Magic Kingdom, Animal Kingdom and Epcot on seperate days.

7/10/04 - Jolie pooped on the potty for the first time. Still a long, long way to go before she's fully potty trained, since she pees about every 15 minutes or so it seems.

7/04/04 - Jolie said, out of the blue while sitting on a bench waiting for my Mom, "Daddy, you're my favorite guy."

5/30/04 - Jolie went to her first movie today: Shrek II at the Fairgrounds Square Mall ... Jolie is slowly beginning to get potty trained. She asks to go about 1 out of every 4 times.

2/16/04 - Jolie is now in the "Me do it!" stage. Everything we do now takes at least three times as long because she has to do it herself. She's becoming very independent, or at least she's trying very hard to be.

2/01/04 - Jolie said "I love you, Mommy" for the first time.

1/26/04 - First signs of the "pretend stage." After I brought Jolie home from the doctor (she had her first bad sore throat), I heard her talking to her plastic shapes that go with the Barney truck. "Come on, Triangle. Come on, Square, it's time to go to the doctor. Make you feel better."

10/13/03 - Jolie can count to 10 already, although she needs her toes or someone else's toes to do it. She's been singing the ABC's song for months now (although many of the letters run together.) I'm telling you, she's a genius.

9/12/03 - Jolie got her first major boo-boo. She tripped on her shoe-lace in the playground at daycare and fell on her face. She has a GIGANTIC brushburn on her cheek, all the way from her eye to her chin.

6/23/03 - Jolie started at a NEW daycare - "A Bridge to Learning" in Allentown. Her previos daycare closed. After a few days there, the teachers told us that Jolie is the sweatest little girl that they have ever had, and that they wished all of the kids could be like her.

6/18/03 - Over the last 2+ weeks Jolie's vocabulary has exploded. She doesn't say anything very well yet, but we've lost track of the number of different words she can say. It's probably around 40-50 or so. She's a genius! And when she isn't saying anything discernable, she's babbling constantly. God help us when she can really talk to us, I'm not sure she's going to stop.

5/30/03 - Jolie had a check-up yesterday. She's average weight, and 95 percentile in height. She starting to say lots of words now. She doesn't say anything very well, but they are definitely words: Bye, Spot, Juice, Cheese, and Darts are a few. Darts is her latest word. She likes when I hold her while I throw darts at the dartboard. I let her hold them and then she hands them to me one at a time, and each time she says "Darts" which actually sounds more like "Dat-tss".

2/25/03 - Jolie began taking her first steps uncoaxed. This was the first time she walked without our standing her up and prompting her to move towards us. We were just sitting there watching TV, and up she stood and walked right across the room. Very exciting. And then she did it again a few more times. Here we go!

2/22/03 - We began weening Jolie off of formula and onto regular milk.

1/28/03 - Jolie took her first steps! They were little itty-bitty baby steps, and obviosly she still really prefers crawling, but...here we go!

1/25/03 - Jolie had a doctor appointment today. She has broken the 20 pound barrier! When she turns 1 in two weeks we can turn her car seat around facing forward.

1/08/03 - Jolie crawled over and touched the right nose when asked "Where's Mommy's nose?", "Where's Daddy's nose?" and even "Where's Spot's nose?" She's a baby genius!

12/30/02 - Jolie is clearly becoming aware of things enough to understand them. She'll point to lights when you ask her "Where are the lights?", and she seems to know ball, nose and a few other things, and loves the attention she gets when she raises her hands over her head when you say "How big's Jolie?!" She's becoming very good at walking when you hold her hands, so it looks like it's just a matter of time before she tries it on her own. LOTS of babbling going on, too. The first word must also be just around the corner.

12/25/02 - We weathered the snow storm, but probably made it back home through the snow thanks to the car being weighed down by so many presents for Jolie. She didn't really know what was going on at only 10-1/2 months old, but she loves pressing buttons that make noise, and she didn't have a shortage of those on Christmas morning. I am now hearing the alphabet song in my sleep. If this girl doesn't know her A-B-C's, there's something wrong.

10/30/02 - Jolie got her first fever, a temperature that reached a peak of 103.5 and lasted for five days. She went to the doctor twice, and even got a chest X-ray at the hospital (which she DID NOT like AT ALL). All is well, though...just a nasty virus.

10/27/02 - Bev made Jolie a home-made SPOT THE DOG costume which she wore to a Halloween parade in Allentown.

9/20/02 - Jolie started holding her bottle herself today.

9/11/02 - Just 2 days after her first couple crawl steps she is completely crawl mobile. She is now in a major house exploration going from one place to another. Unfortunately she also found out that being mobile can sometimes be painful. She got her first boo-boo when she slipped during a crawl and clunked her chin on the entertainment center resulting in a nice little shiner. (This was under Mommy's watchful eye, I'd like to add - NOT daddy's!) This morning she also moved on from "mom mom mom mom..." to "da da da da da da da." Bev even called me at work and got her saying it on my work answering machine. Very cute.

9/09/02 - Jolie took her first few crawl steps today. It was only a few each time before falling over but she seems thrilled that she can kind of move around on her own!

9/02/02 - Jolie is doing a lot of baby babbling now. This morning we awoke to hear her in her crib going "mom mom mom mom mom mom mom." It was more making noise than a word to her, but it was still very cute.

8/26/02 - Jolie has started trying to both crawl AND grab hold of things to pull herself to a standing position. She isn't able to do either yet, but she is clearly trying. It's only a matter of time now!

8/20/02 - Jolie had her 6 month check-up today. The Dr. said that she is a very "advanced sitter." Jolie clearly gets this from her Dad. I am also a very "advanced sitter," rarely falling over when I sit ... She has grown an inch since last time, and now weighs 16 pounds-4 ounces. She is 90 percentile in height, 70th in weight.

8/17/02 - Jolie seems to have caught a cold from me. Her mood hasn't seemed to have changed at all, she just has a runny baby nose.

7/01/02 - We added baby cerceal to Jolie's diet for the first time. She's doing quite well with it although only about half of it actually goes in her mouth - the rest makes an unbelievable mess!

6/29/02 - Jolie rolled over for the first time on her own! Of course, it was 5AM and she couldn't figure out how to get back on her back and the screaming ensued.

6/21/02 - Jolie weighed in a 14 pounds 9 ounces (75th percentile), and 25-3/4" in length which is the 95th percentile. She's a long one!

6/18/02 - Jolie's first tooth begins coming in (and so does a lot of drool.)

5/04/02 - Jolie laughed for the first time. She had been very smilely to that point, but didn't seem to know how to make a laughing sound to go with her big smiles.

4/19/02 - Jolie weighed in at 11 pounds, and measured 23-1/4" in length. She only has 2 more pounds to catch up to Spot.

4/11/02 - Jolie's smile is caught on film for the first time!

3/24/02 - Although there were a few prior tiny quick smiles here and there, Jolie really started smiling more frequently this weekend.

3/21/02 - Jolie weighed in a 9 pounds, 5 ounces.

3/04/02 - Jolie's belly button cord nubby-thingie falls off.

3/03/02 - Jolie definitively reaches for something for the first time, grabbing/examining the pretty puffy frame around her baby mirror!
THE PICTURES!
(Click on the Picture
to see the entire
set of photographs)



Going Home
from Hosp.


First Few
Days Home


2nd Week


March 2002


April 2002


May 2002


Summer
2002


Fall
2002


Winter
2002-03


Spring
2003


Summer
2003


Fall
2003


Winter
2003-04


Spring
2004


Summer
2004


Fall
2004


Winter
2004-05


Spring
2005


Summer
2005


Fall
2005


Winter
2005-06


Spring
2006


Headlines, 2/11/02:

Snowboarder, Kelly Clark, swoops in for USA's first gold medal

Dave Matthews Band and the Foo Fighters play at the Olympic Winter Games in Salt Lake City

Ecstasy grows as danger to teens

Bush administration rewriting nuclear policy

Philadelphia boos Kobe Bryant, the All-Star Game MVP

Enron collapse puts U.S. economy recovery at risk; Enron's former charman, Kenneth Lay, invoked the 5th Amendment to avoid testifying in front of Congress

Arnold Schwarzenegger's "Collateral Damage" tops the movie box office

Robot revolution coming your way

Lawmakers call for swift action against Iraq, Saddam

Afghan warlords vow to continue fight

FBI terrorism alert, authorities beef up security in anticipation of planned attack tomorrow

Number of People
Who Think Jolie Is
the Cutest Baby Ever: