Wife:
Melissa Ann Heck. Their engagement announcement was in the 6/27/99 paper, and were married in June of 2000. Melissa is from Flying Hills, and is a graduate of Wyomissing High School and Alvernia College, where she received a bachelor's degree in communications and certification in elementary education. Leon's brothers, Dr. George and Dr. James Pace were best men. One of the ushers was former MPHS graduate Joe Boyle. The reception was at the Berkleigh Country Club and was followed by a wedding trip to Greece.
Children:
None as May 2005
Dogs:
Gibson and Wallace (both West Highland Terriers)
Post H.S.
Education:
B.S. in Economics from Temple University
Occupation:
Works for Wachovia Bank (formerly First Union) Capital Management Group since 1999. He previously worked for Merrill Lynch.
Hobbies:
Was playing a bit of soccer, but says he now would much rather spend time
working in the yard or gardens around the house.
Future Career:
Leon listed "Medicine" in the senor yearbook as his future career path.
High School
Nicknames:
Greek, Paceotis
Favorite H.S.
Memories:
Taking the wrap for stealing the stats exam.
Exciting Things
since H.S.:
(Leon didn't complete this section of the 10-year class reunion questionnaire - like most of you other lazy slobs - but I'm sure one of the highlights of Leon's post high school life was playing Softball in the Fall for one season with me, Jeff Petersen, Darren Max and Randy Boyer.)
Senior Memories (Copied directly from the Senior Yearbook):
Joe B ... Jan K ... Summer of '84 ... Jan's House ... Jeff P., Randy B., Darren M., Ron S., Evan S. ... Stone Harbor '84 ... Wildwood '85 ... Thank you Tricia, Jeanne, and Susan and all my friends for the ineffable memories.
Chris Mal Notes:
As per Webster's - ineffable, in-ef'fa-ble, adj. that cannot be described.

I'd like to elaborate on Leon's favorite memory, but before I do, I'd like to note that it took me about 45 minutes to figure out exactly what Leon's response was on the 10-year reunion questionnaire - "Taking the wrap for stealing the Stats exam." Leon's hand-writing has not improved one bit since 1986. Anyway, it was Mr. Fegely's Stats class - midway through the year we got to a chapter that no one understood - it was unquestionably the most difficult test of the year. We noticed that Mr. Fegely always kept the exams in one particular filing cabinet drawer, so after Basketball practice one night, Randy sneaked (or is it snuck) into the room and took the answers to the test out of the filing cabinet. He gave the answers to me and Leon. We took the test and I wrote in all of the answers. What I didn't realize was that questions 3 and 4 were reversed from what was on the answer sheet, and I didn't even bother to notice. So for question 3, my answer was something like "5x cubed minus 47j over the square root of 7", and my answer for question 4 was something like "two." Those were the right answers but not for the right questions - so it was obvious that I cheated. Later in the week, Randy, Leon and I - AND Ron Slutsky got called to the office. Mr. Orlando said I would be suspended if I confessed, so I denied it. So did Randy. Leon didn't. Ron denied it too - why? Because he didn't cheat! But he did so unusually well that they were sure that he had cheated too.

Leon buys his groceries at Giant according to Kim Schmidt.

Leon used to make some interesting sounds when he'd blow his nose, and I also remember the class after lunch would always be quite an event if Leon had eaten an Italian Sandwich with a lot of onions because he had a strange ability to belch large quantities of gaseous onion at will. He seemed to enjoy blowing onion breath into people's faces. Ah, yes, the things you have to do to win those "Class Clown" honors.

Word on the street is that Leon would prefer to be called "Lee."

Eagle-eyes Cathy (Ketcher) Rowley spotted a picture of "Lee" Pace golfing in the Friday, May 31st, 2002 edition of the Reading Eagle/Times.

Lee served as Counsilman in Mt. Penn around 2003. Well, if nothing else, he has our class presidency to put on his resume. That's got to be worth a lot! As my inside sources say, clearly he "was grooming himself for that much coveted position." Per Lee, 5/03/05, "I'm pleased to say that I was able to work closely with attorney JD Krafczek to reach mutually agreeable terms between his clients and the Antietam School District, after 2 plus years of a legal stalemate, in allowing Antietam School District to purchase back the former Mt. Penn High School. Next time I'm in the area I'll take a picture of the former MPHS, which is currently undergoing a phenomenal renovation, and email it to you for a nice nostalgic update."

More from Lee, 5/03/05, "I see Randy Boyer from time to time. He and I, along with my wife, work closely several months out of the year coordinating a golf fundraiser for the local homeless shelter called Opportunity House. I was part of the inaugural committee 7 years ago, and today it is the largest annual economic campaign for the Opportunity House. You can find out more about the services the Opportunity House affords at www.opphouse.org. Randy and my wife are
both Board Members."

Apparently Lee is still playing soccer as of August 2003. A friend of his (Rick Stone) who is on the same soccer team stumbled upon my website, and signed my guest book.

While back in Reading for the holidays in December 2004, Brendan Kane ran into Leon and his wife at Toys 'R Us.
Class Officers
President: Leon Pace
Vice-Prez: Maia Carvahlo ('84), Randy Boyer ('85 & '86)
Secretary: Kelly Clark
Treasurer: Diane Churan

(Click on picture to enlarge)
From the November 1984 Penn Post
<![if !vml]>

<![endif]>OUTSTANDING ATHLETES
This issue�s male athlete is Leon Pace, a junior. This year, Leon has been playing the varsity soccer goalie. This is Leon�s first year as a goalie. At the beginning of the season the team had no goalie and Leon very graciously volunteered his services. He is doing very well and is considered just as good as the other experienced goalies in the county. Leon also participates in volleyball and baseball. On the baseball field, he plays pitcher and left field.
- Karen Denby
From the October 1985 Penn Post
<![if !vml]>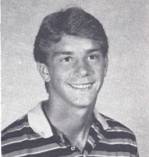 <![endif]>OUTSTANDING SENIORS
Leon is the senior class president this year. He has been president of his class since 10th grade. His other responsibilities include vice president of Boys' Leader Corps and head of the Student Advisory Committee. He is also involved in Science Club and Modern Language Club.
Leon is also one of our athletes. He is on the varsity squads of soccer and in baseball.
Leon, who is a Pisces, enjoys playing golf and soccer with his friends. His favorite subject is history.
In the future Leon plans to attend college, either Boston University or University of Massachusetts. Then he wants to work in the medical field.
- Julie Hyman
OUTSTANDING ATHLETES
The male athlete of the issue for this first edition of the Penn Post is Leon Pace. He is our soccer team's last line of defense, our goal keeper. On occasion he is relieved of his goal keeping duties and gets a chance to play the position of center striker.
Leon has been active in the following sports: baseball, volleyball, soccer, and this year he will even be playing basketball. In his spare time, Leon likes to play sports, spend time with his girlfriend and ski.
- Kerry Motze
From the November 1985 Penn Post
SINGLE STANDOUTS
Even though the soccer team did not win their division, they still had individuals who were acknowledged for their achievements on their respected teams.
Leon Pace who played striker and goalie and Kerry Motze who played center half back were both selected to the Berks All-County team honorable mention. Congratulations to these athletes for their achievements and hope that the teams will keep having individuals who excel at each and every sport.
- Danny Hafetz
Number of times Leon belched
in my face for the pure fun of it: