The Kauffmans
Nicole, Karen & David - 2002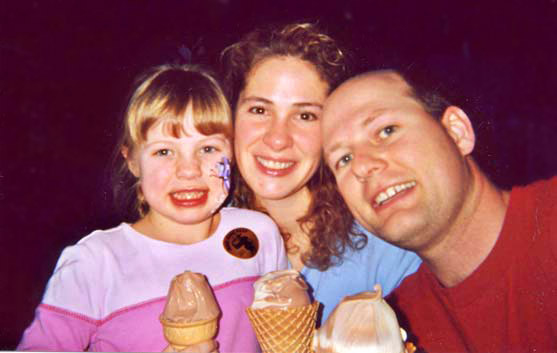 Husband:
David A. Kauffman (married 06/08/91) ... Karen met her husband while at college at Bloomsburg. He has his own CPA practice.
Children:
Nicole Diane Kauffman (Born 05/08/96) ... She takes dance. She has been riding horses since she has been 20 months old, and won high point at a regional riding club last summer (2001). She is witty, smart, and loves life - a real ham!

Per Karen, 12/04/02:
"Nicole is 6 1/2 going on at least 12 or 13. It's really scary. She is very active in dance, horses, soccer, and dress-up."

Per Karen, 3/18/04:
"Nicole starts her morning by her loud Hilary Duff CD and is accompanied by her singing. She informed me that she will be a 'tween' (official pre-teen) this May. I am getting nervous, as you can imagine."

Per Karen, 3/02/06:
Nicole is very busy with ballet and her dance class. "Dave and I are so proud of her. She was one of few selected from her dance company from out of several counties in Colorado to perform with The Moscow Ballet's production of 'The Nutcracker' in Ft. Collins, CO this past November at The Lincoln Center. She performed in 'The Russian Dance' part of The Nutcracker. She did awesome and made me cry. She got to meet a lot of the professional dancers and had a potluck dinner with them and performed in two performances. She was in awe with the entire experience and just loved the stage! They provided interpreters to help instruct the kids."

"She takes 4 1/2 hours of dance a week with 2 1/2 hours of it devoted to ballet. Her instructor was a professional dancer in New York and taught in Los Angelos for several years before moving to CO. She had taken Nicole under her wing and has private lessons every week with her including her group lesson. Nicole was moved up this year with the 11-14 year olds and will be invited to go to the high school group practices next year as well as continue in her present group and private lessons."

"She isn't interested in the horses, but does enjoy her lambs, bunnies, and cats. She is active in 4-H and is currently treasurer for the year. She won Colorado Reserve Grand Champion for model rocketry this year at the Colorado State Fair!! Some kid in Loveland, CO won Champion for rockets. She won Grand Champion Catch-A-Rabbit, Grand Champion crossbred rabbit, Grand Champion Fashion Review, and Grand Champion Decorate Your Duds out of the entire county!"
Pets:
I have a registered quarter horse named Seeking Zippo Pine ("Zip") out of world champion bloodlines that I've owned since 1993, a filly named Hershey who was born on 3/05/02, and Double Chocolate Chip born right on their farm in May 2003.
Education/
Achievements:
Bloomsburg University
ACLS/NALS Certification (see below)
CEU's in ICU/OB nursing areas
Occupation:
Registered Nurse at East Morgan County Hospital in Brush, CO, working 3 days each week. Karen is trauma certified and am currently working in the ER. As of March 2004, she was still working in the ER, and was in the process of opening up a Special Care Unit which was taking up a great deal of her time.
Tattoo:
---
Kauffman Pictures, 2005
Vacation, Disney
(Click on a thumbnail picture to enlarge)
Kauffman Pictures, 2005
Vacation, Discovery Cove
(Click on a thumbnail picture to enlarge)
"These are pictures from Discovery Cove in Florida from part of our trip. It is a park owned by SeaWorld and allows a max of 2000 guests by reservation only per day. Nicole and I loved this day the most from our entire trip!!! What a blast! You can stay in each of the areas as long as you like and just come and go as you please. We got a private 30 minute interaction with a dolphin (our dolphin was named Coral). They provided a full or partial wetsuit and a catered gormet meal. The areas included a stingray lagoon for petting and feeding, a coral reef that even had black and white tip reef sharks (of course enclosed in a separate plexi-glass portion of the reef), a river swim area, a bird sanctuary that you can feed the birds right on your arm when they fly on you (parrots and different exotic birds) at free will, and of course the dolphin interaction. It was a dream come true!!!"
---
Kauffman Pictures, 2000-2002
(Click on a thumbnail picture to enlarge)

David and Karen at a wedding in 2001

Nicole at a stock
show in 2002

David and Karen 2000

Nicole
Christmas 2001

Nicole
Soccer 2002

Nicole
Christmas 2001

Nicole
November 2001

Nicole
Halloween 2001

Karen and Nicole,
2001

David, Nicole, and Karen on Halloween 2002

Nicole,
Ballet 2002

Nicole

Nicole
Halloween 2002

Karen and Zipper

Karen's birthday 2002

Hershey
September 2002

Hershey
September 2002

Nicole playing dress-up

The Denby Bunch (That's Karen, Nicole and David at the top, and Rick Denby's three kids at the bottom!)

Nicole's first day
of first grade, 2002
These are photos of one of the horse's Karen used to have, Blue Sky Nirvana ("Vana"), taken in September 2001 at her American Warmblood Society inspection. She is approved at red preferred level and got branded with the AWS logo that day ... In 2002, they sold her to a professional rider in California as a three-day event prospect.
Hershey was born out of the Kauffman's Paint mare "Key to Reed" on 3/05/02. "Key" was crossed with a performance champion out of Texas named "Rich N Chocolately," who was out of world champion "Zips Chocolate Chip." "Rich" is a TB/QH cross, therefore "Hershey" is a TB/QH/Paint cross. Hershey was the first baby on the Kauffman's farm ... As of 2006, Karen says that Hershey is being sold.
Here are some updated pictures of our newest edition to our horses. He is "Double Chocolate Chip"- name pending for registration. We call him "Chip" for short. He was born here on our farm in May 2003. These are pictures at about 4 months of age. He is sired by Superior Champion "Rich N Chocolatey", out of world champion, "Zips Chocolate Chip." I think he will be a great performance horse for us. He is really cute.
People I would
Most like to see
again from HS:
Kathy, Sally, Kelly, Wendy, Darren, Chris, Leon, Randy, Jeff, Diane, etc.
Favorite HS
Memories:
Enjoyed playing all sports, going to pizza hut after basketball games and spending time with my friends.
Most Influential Teacher:
Mr. Strickler
Some Exciting
Things I've
Done Since HS:
Completed ACLS (Advanced Critical Life-Saving) and NALS (Neonatal Life-Saving) certifications.

Experienced many challenges in rural nursing in general.

Competed in open amateur hunter/jumper horse shows.

Survived two tornados four miles from our home 5/30/96.

Enjoyed water skiing at Lake Powell in Utah twice since moving to Colorado.

Built a house in the middle of a cornfield in 1993 without any trees, greens, shrubbery, flowers - nothing! Built the house from scratch and now we have a lawn that we put in, laid forms for sidewalks, built a three stall horse barn, built a fence for our pasture with a round pen for the horses and slowly our property is starting to look better. We also planted lots of trees (all about 11 feet tall at present, but started at about 1-2 feet), shrubs and flowers. If you live in Pennsylvania, enjoy the greenery, because there's not much in Eastern Colorado. I've learned how much I had taken that for granted.

Per Karen, April 2001, she says she really hates her senior picture: "I hate that picture! I look like a total goody-goody two shoes. I guess over the years I've rebelled, and have changed my looks. I currently have a shaved head with both a tongue and eyebrow earrings. I enjoy gothic music, and spend most of my time meditating. .....................just kidding!"
Senior Memories (Copied directly from the Senior Yearbook):
DC, KC, SF, KF, WC ... THANKS 4 BEING THERE! ... Summer '82 ... Awesome 4-some ... Me/Joe and Moe ... Prom '85 ... Diane's pink shirt ... 1/5/85 ... Cruisin' in VW/Omni ... Blowout! ... Giggin' at the Silo ... 1/9/81 ... Roxanne!!
Chris Mal Notes:
Karen has Monopoly checks.

I vote for Karen as the person who sounds like she's living the coolest life since graduation.

I also would like to thank Karen for being one of the few people to write something interesting on her 10-year reunion form. I was getting just a wee bit tired of "List some of the exciting things you've done since graduation:" and getting the typical response: "Got married, had kid." Although I'm sure that was in fact very exciting, it is painfully obvious that Mrs. Strickler failed in her duties to turn some of you people into creative writers. :o)

According to Karen's Classmates.com profile, certain types of music remind her of high school, like U2.

Karen now enjoys alternative music. She was introduced to grunge by her husband in the early '90's, and actually saw Nirvana live "before ol' Kurt blew himself away."

Karen says she is considering a belly-button ring. I vote for "do it." Belly button rings are cool.

Karen went to Kindergarten with Marta Weitz and Todd Weikel.

On Page 139 of the senior yearbook is an action shot of Karen's shoulder. I only know that because Karen wrote that on page 139 of my yearbook "How do you like that Chris? It's an action shot of my shoulder!!! - Karen."

Karen was named "Most Improved" on the 1985 Girls Softball Team.

In 2006 Karen, Dave and Nicole will be traveling to Mexico with Dave's entire family for Dave's parents' 50th wedding anniversary. They will be staying at Playa Del Carmen,near Cozmel.
From the February 1986 Penn Post


SENIOR OF THE ISSUE
The female senior of the issue is Karen Denby. Karen belongs to many clubs and participates in extra curricular activities. She is presently in Y-teens, Girls Leader Corps, National Honor Society, and Penn Alma, She is also the co-captain of the cheerleading team. Along with these activities, Karen also plays field hockey, softball and volleyball.
Karen's favorite subject is Anatomy and Physiology. In her spare time' Karen enjoys being with friends and listening to Sting.
Karen is planning to go to college after graduation, and pursue a career in nursing.
-- Dan Hafetz
From the June 1986 Penn Post


TOP RANKING SENIORS
KAREN DENBY is a memoer of Y-teens, Girls' Leader Corps, NHS and Penn Alma. Karen has played field hockey since 9th grade. This year, Karen was co-captain of the cheerleading squad, to which she has belonged since 9th grade. Karen plans to attend Bloomsburg University where she will major in nursing.
I'm going to go out on a limb and
guess this was taken during a loss.
1985
Karen, tall socks
and a mouth piece
1986

Yearbook Staff
Editors
1986
Sports-Darren
Sports-Diane
Seniors-Lisa P.
Faculty-Cathy K.
Faculty-Thahn
Activities-Marta
Underclassmen-Karen

Karen and
Mrs. Thomas,
Field Hockey
1985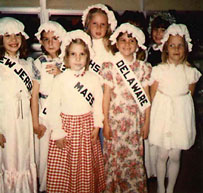 From 2nd Grade!!!
From left to right: Karen Denby, Lori Alison,
Wendy Crow, Mindy Snyder, Sally Ford,
Julie Kissinger (in back) and Renee Moyer.
Number people who wish they
were Karen living in Colorado
in a big home with horses and cats: