Husband:
Terry Frederick (married 5/11/91)
This is the same guy that Maia dated throughout high school!
Children:
Brian and Joshua - TWINS! (born 2/11/94) (Note, the twins are fraternal, and, according to Maia, they look nothing alike. I'm told that Brian loves sports, particularly Ice Hockey.)
Education:
Associates Degree in Nursing from Alvernia College
Hobbies:
Maia's hobbies include coaching Soccer for her son's 8-and-under soccer team (as of 2001). She is also quite a cake baker. In fact, she once baked a Tinky-Winky cake.
Occupation:
St. Joseph's Medical Center - Pediatric RN (She used to work with Stephanie Shaeff until Stephanie moved to Nantucket.)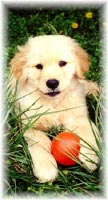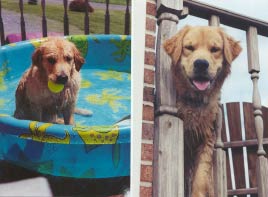 Pets
:

The Fredericks have two Golden Retrievers, one named "Champ" and the other named "Lucky." Apparently Lucky was "lucky" to have been purchased by someone at a pet store for $800 and then was later adopted by Maia. Lucky once killed a rooster and a duck. Hehehe. The pictures above are all of "Champ", the one on the left is of "Champ" when he was just a puppy.
Person I'd
Most Like to See Again:
Christine Jurasinski
Favorite H.S.
Memories:
Being with my friends.
Exciting Things
Since H.S.:
Honeymooned in Jamaica and gave birth to twins on February 11th, 1994.
Chris Mal Notes:
Maia was quite a golfer back in high school.

She was also class Vice-President in 10th grade. She obviously was smart enough to get out before we graduated. They never tell you that your greatest obligation as class officer is reunion planning for the rest of your life!

Maia, Christine and I used to call Mrs. Star "Mama Vegetable," and I used to call Maia "Super Pickle" and I think used to even be "Super Broccoli" or something.

One of the many fond memories I have of the Senior Class trip was driving Maia and Christine around like a madman on a Golf Cart.

Maia's brother Eric was working at The Crab Barn as of May 2001.

Page 133 of the senior yearbook, "Ed's Stamps (every Friday and Saturday at Zern's Market)" has an ad which says "Congratulations to Maia Carvalho and the Class of '86." The ad is right over the top of a picture of Julie Hyman and Chrissie Cunnius looking rather forlorn.

In 2005, Maia received the Professional Development Recognition Award for 2005. "The award recognizes acute care bedside RNs for consistent advocacy of the nursing profession through positive role modeling and leadership participation within their department, the hospital, and the local community."

This letter to the editor appeared in the Reading Eagle, 5/10/06...

Editor:

I have been a nurse for more than 16 years and I am once again upset to see a front page article about nurse recruitment ("Prognosis good for nurses," Reading Eagle, March 5).

Little or nothing is done or said about nurse retention. Yes, new graduates do get recruited for jobs but they stay only one or two years to get their bonuses and then they leave.

Meanwhile, nurses with a commitment to their employer and their patients, and who have worked for an employer for many years, receive little or no incentive to stay. If anyone truly cares about the nursing shortage, then more must be done to keep nurses at the bedside caring for patients.

Give nurses retention bonuses, let nurses have more input concerning patient care and improve the staff-to-patient ratios.

Employers can recruit as many new graduates as they want, but if the nurses don't stay, employers will have spent a lot of money on orientation and still not have enough nurses.

Maia Frederick
Hamburg
Senior Memories (Copied directly from the Senior Yearbook):
The paper route ... Rehobeth Beach ... "You are my sunshine" ... driving to B.D. ("Sister Christian") ... Terry ... tart ... Golf (Christine and her sand divots) ... aerobics class with Cori ... "Can I borrow a dime?" ... photo class.
1984 Class Officers
President: Leon Pace
Vice-Prez: Maia Carvalho
Secretary: Kelly Clark
Treasurer: Diane Churan

(Click on picture to enlarge)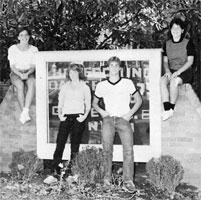 Sophomore Year
Maia and 3/4 of
Audrey Acker's head
1986
Maia sneaking
up on her next
candid photo opp,
1986
Cori Roboski &
Maia Carvalho,
Yearbook
Photographers
1986
From the October 1985 Penn Post
MAIA AND CHRISTINE PLACE IN COUNTY
On October 9th, Maia Carvalho and Christine Jurasinski played in the Berks County Girls' Championship to qualify for the district tournament and also received medals for placing in the tournament. Maia shot a 104 and received the 3rd place medal. Christine shot a 106 and received the 4th place medal.
The district tournament will be held October 22 at York.
- Dan Hafetz
Jill and Maia in
Mr. Sgro's class,
1985
Golfing Goddesses
1986
From the November 1984 Penn Post
<![if !vml]>

<![endif]>Outstanding Athlete
This issue's outstanding athlete is Maia Carvalho, a junior. Maia has been a member of the golf team for 3 years. Her average in the game has improved by twenty-six strokes since her freshmen year.
Her placement in Berks County Girls Golf Tour is as follows:
1982: 4th place
1983: 3rd place
1984: 5th place
She was the first girl at Mount Penn to play in the District III Girls Golf Tour.
Maia's determination and dedication to the golf team has continued and grown even though her seasons with the golf team have been losing records. Her coach expects her to place in the top five in the Berks County Tour next year and qualify for District III play. Congratulations Maia!
- Karen Denby
From the October 1984 Penn Post
MAIA PLACES
Maia Carvalho placed 5th in the Berks County Girls' Golf Tournament at Arrowhead recently. Her score of 114 qualified her for the District III Golf Tournament to be held in York. This is the 3rd year Maia has received a medal in county competition. Christine Jurasinski missed qualifying by only 1 stroke. She placed 6th. Evan Spohn, from our boys' team, also qualified for the District Tournament.
- Diane Churan
Number of times Maia's
drives landed in the trees: