Husband:
Bob Billman. Bob inherited his Dad's construction business in 1989 and has kept it going ever since.
Children:
Robert (Born 10/24/91) - they call him "Bobby." As of 2004, he was starting 8th grade in the Fall, and was wrestling, playing football and riding one of their horses named Texas (1/2 Arabian, 1/2 Quarter Horse.)

Stephenee (Born 7/02/93) - Her spelling comes from "Stephen" for Diane's dad who sadly passed away in February 2000, and from Diane's Mom, "E"thel "E"ileen. As of 2004, she was starting 6th grade in the Fall, was playing field hockey, basketball and riding their other horse named Jet (American Quarter Horse). Stephenee shows Jet and in 2004 is actually the high point rider in Open Shows for the PA Youth Quarter Horse Association. She has also qualified for the State 4H competition that will be held at the Farm Show Complex in Harrisburg on 10/10/04.
Occupation:
As of 2006, Diane had obtained her realtor's license and was working for Berkshire Network/GMAC Real Estate. The following is from her profile on the Berkshire Network/GMAC website...


Over the past 20 years, I have had the privilege of working in new construction and banking. Through these two positions, along with being a mother of two, I have come to know what all of us, as customers want... outstanding customer service.

My goal is to help you, whether buying or selling, have the smoothest transaction from start to finish. Life has enough stress. Sit back, relax and let me do the work for you.

* Native of Berks County.

* Member of the Reading-Berks Association of Realtors.

* Graduate of Lebanon Valley College, Bachelor of Science in Business Management.

* Reside in Mohrsville on my "mini zoo" with husband, Bob, son, daughter, 2 dogs, 3 cats, 2 horses and our prize possession 1 Mediterannean Miniature spotted donkey (AKA Rocky).

* Member of Berks County Field Hockey Officials Association.

* Active adult member of the 4H Group, The Blue Ribbon Riders.

* Secretary of Sch. Valley's wrestling parents' club - The Panther Mat Club.

(Here's something interesting. Guess who else works at Berkshire/GMAC? Bill Dengler! CLICK HERE to see his profile. Looks like Diane works at their Wyomissing office, and Bill works at their Exeter office.)

Diane worked for Berks County Bank right after college, but decided to become a stay-at-home Mom after her first kid, Robert, was born 10/24/91. Eventually she began working as an office manager for her husband, Bob. She coached field hockey at Antietam and Albright College in between, and had been a volunteer coach for her daughter's 5th and 6th grade team at Schuylkill Valley.

Achievements:
Bachelor's in Business Management from Lebanon Valley College in 1990 where she was a field hockey starter for all 4 years. She was All-MAC three years, a regional All-American two years, and a Division III All-American her senior year. Along the way, she set the LVC school scoring record!

In 2004, Diane was named to Lebanon Valley College Athletic Hall of Fame.
Free Time:
The kids' crazy schedules and their company keep Diane fully occupied, but she still finds time to play volleyball and referee field hockey for Berks County schools.


Diane was the Field Hockey coach at Albright College. The following was directly from the Albright College web-site. Very impressive!

Albright head field hockey coach Diane Billman sports an impressive playing and coaching resume.

A 1990 graduate of Lebanon Valley College with a bachelor of science degree in business management, Coach Billman was a field hockey starter all four years with the Flying Dutchmen. She was All-MAC three years, a regional All-American two years, and a Division III All-American her senior season. Along the way, she set the LVC school scoring record, which since has been broken.

She began her coaching career as the junior varsity field hockey coach at Antietam High School, near Reading, for one season, then moved up to varsity head coach for five seasons before coming to Albright in 1998.

As with most sports at Albright, the field hockey team plays and practices in the shadow of dormitories and classrooms, making for a friendly, communal atmosphere. The Lions play on Kelchner Field, with the fall colors of the surrounding mountainside offering a vivid backdrop.

Head coach Diane Billman encourages her players to give 100% on and off the field. To strengthen team bonding, which is important for working well together and suceeding, the Lady Lions do activities outside the realm of field hockey. Some activities in the past have been laser tag, team dinners and roller skating. In the off-season, to stay fit and keep their skills sharp, the team plays indoor field hockey and participates in tournaments. Academics also are a primary concern. Games involving longer travel are deliberately scheduled for weekends, whenever possible.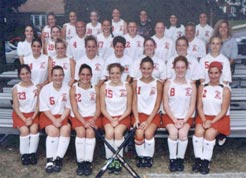 Albright 2000 Field Hockey Team
(Diane is in top row all the way to the right)
CLICK ON PICTURE TO ENLARGE
For all of the Albright Field Hockey news and information...
http://www.albright.edu/athletics/fieldhockey.html
Health Class Notes:
I married Diane before Bob did - Diane was my make-believe wife in Health class in 11th grade. We had egg-baby twins. (Which is funny because my wife always makes fun of me when I hold someone's baby because supposedly I look so frightened that I'm going to drop it - well how can I help it. That is what that stupid exercise taught me! Don't drop the baby or you get a big fat "F"!) The twins were named Derek and Dustin. I remember Diane, Brendan and Sally (Brendan's Health class wife) and I actually went browsing for furniture. We also had a make-believe dog named "Boof" (which was the Darren Max high school word for "fart," by the way.) ... In my 11th grade yearbook Diane wrote "To the greatest husband I've ever had...so far."

On a related note, at one of our 10-year re-union committee meetings, Eric Delewski confessed that Heather Hill (Eric's Health-class wife) completed the whole report herself without his help!
Penn Post Notes:
November 1982 (Volume 26, Edition 2): In a summary of the Fall 1982 Field Hockey season, "...Diane Churan was hit in the mouth during a practice corner before a game..." That same season, Trish Hill needed stitches, Pam Horning got a black eye, and Carolyn Horst broke her finger. Ouch.
Class Trip Notes:
If I remember right, Diane's future husband to be at the time, got us most of the beer on the class trip.
Senior Memories (Copied directly from the Senior Yearbook):
KD, KF, SK, KC, WC, BB ... Luv ya ... "the school!" ... ski trips ... Giggin' in the RABBIT ... Camp ... Bang! ... Summer of '85 with Bob ... awesome 4-some ... lifting ... Don't Point (2) ... The Drive-In ... 6/2/84 ... Thanks Mom and Dad.
Chris Mal Comments on the Senior Memories:
Ya know, there are a lot of memories which mention "pointing". Perhaps everyone could see to it that, for old times sake, everyone "points" at the re-union.
Class Officers
President: Leon Pace
Vice-Prez: Maia Carvahlo ('84), Randy Boyer ('85 & '86)
Secretary: Kelly Clark
Treasurer: Diane Churan

(Click on picture to enlarge)
From the December 1984 Penn Post
<![if !vml]>

<![endif]>OUTSTANDING ATHLETE
This issue's outstanding female athlete is Diane Churan, a junior. Diane is a very fine hockey player who has an excellent attitude and will always give 100% during practice and games. Some of Diane's accomplishments this year were leading the hockey team in goals and making the All-Division hockey team.
Besides hockey, Diane also plays basketball, volleyball, and softball. Mrs. Thomas is looking for many fine things from Diane this year and next.
- Dave Blose
From the November 1985 Penn Post


SENIOR OF THE ISSUE
Diane Churan is our Female Senior of the Issue. Her favorite subject in school is Anatomy and Physiology.
Diane enjoys her participation in many clubs. She is president of Girls' Leader Corps, treasurer of the senior class, sports editor of Penn Alma, and an active member of the National Honor Society and the Modern Language Club.
Diane also enjoys playing sports. She plays field hockey, basketball, and baseball for Mt. Penn. She was recently elected to the County All Star Hockey Team.
In her spare time, Diane enjoys horse-back riding and spending time with friends.
Diane's future plans include college for physical therapy. She would also like to get her masters in Sports Medicine.
- Julie Hyman
From the November 1985 Penn Post
SINGLE STANDOUTS
Even though the hockey team did not win their division, they still had individuals who were acknowledged for their achievements on their respected teams.
Diane Churan of the hockey team was selected to the Berks All-County Team for her outstanding efforts in hockey. Sally Ford, also on the hockey team, was selected to the All Division Team. Diane played the left line position while Sally played the left inner position.
- Danny Hafetz
From the December 1985 Penn Post
OUTSTANDING ATHLETE


The female athlete of this issue is Diane Churan. Diane is a very active participant in Mt. Penn's athletic program. She is the captain of the field hockey team, co-captain of the girls' basketball team, and a member of the volleyball and softball teams.
Diane is perhaps best known for her talent in field hockey. In 1983, she was the 5th leading scorer in Berks County. In 1984, she made the All-Division team, and this year she made the All-Berks team.
Diane is also involved in many other school activities. She is president of Girls' Leader Corps, and treasurer of Y-teens. She is a member of the National Honor Society, and she is treasurer of the Class of '86.
Out of school, Diane enjoys spending time with her friends, horseback riding, and skiing.
--Kathleen Petruska
Yearbook Staff
Editors
1986
Sports-Darren
Sports-Diane
Seniors-Lisa P.
Faculty-Cathy K.
Faculty-Thahn
Activities-Marta
Underclassmen-Karen

Girls' Leader
Corps Officers
1986

Y-Teens
Officers
1986

Jim Seitz &
Diane Churan
Valentine's Dance
1985
We're happy because we have
really tall socks and some Icy Tea
1986

Diane and a ref
waving to his wife
1986

The Mounts only
senior in 1986

A picture of
Diane with her
feet cut off, 1986
Diane on the Internet: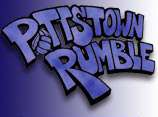 According to the Pottstown Rumble website (www.pottstownrumble.net), Diane and her partner took 2nd place in the "Women's BB Divsion" in 2002. Per the site home page, the Pottstown Rumble is a volleyball tournament that dates back as far as 1991. The event has grown into a 2-day event with over 90 nets and over 1200 players. It has become one of the biggest grass doubles tournaments in the nation!
Number of times Diane
changed the diapers on
our 11th grade Health Class
Egg Baby Twins: