| | |
| --- | --- |
| Wife: | Meiko (I believe Steve met Meiko while in Japan if I remember the story correctly. She works at Health South Reading Rehab Hospital, on Route 10, which is the same place that Evan Spohn works. Steve and Evan occasionally see each other at work functions.) |
| Children: | Maia (born in 1998) |
| Occupation: | I've been with National Penn Bank (Boyertown, PA) since 1991. For the past few I've run our project management group. (Steve described it as the "topsy-turvy-non-stop-thrills of banking.") |

Yearbook
Future Career:
In our senior yearbook, Steve listed "Political Science" as his planned future career path.

The Kunkel Family
(September 2001)

Senior Memories (Copied directly from the Senior Yearbook):
Georgetown ... Hoops bus ... Golf Team-Pole, Loosey, Spanky, Jerry ... Zuber at halftime ... Zuber and the clipboard ... Mao's Thermidor ... Brain Trust ... Good luck to all my friends.
Chris Mal Notes:
Steve lived in Japan for a while not long after graduation, teaching English. If my memory serves me correctly, I think he met a girl who he married and brought back to Reading. They bought a row home somewhere around 15th street. In an attempt to contact him for the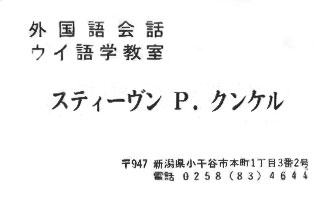 10-year reunion, I called the number at that address but it has been disconnected with no further information available ... In March of 2001, Steve's name appeared on Classmates.com. He has been living in Exeter for the last 10 years.

To the right is a business card that I found in some old files. It's Steve Kunkel's card from when he was teaching English in Japan. The reverse side of the card is in English: "Oui Language School, Steven P. Kunkel, English Teacher, 1-3-2 Honcho, Ojiya-Shi 947 (0258) 83-4644."

Steve was voted Class of '86 "Most Likely to Succeed."

Since our last names were near each other in the alphabet, Steve often was either in front or in back of me. I HATED when he was behind me. You would spend the entire class in fear of either something hitting you in the back of the head or getting put down the back of your shirt, or someone kicking you. And every now and then, you'd forget he was there and stretch your arms - you could then count on him grabbing your arms and pulling them out of their sockets. Or, if you'd lean back on your chair, he'd be sure to scare the hell out of you, by pulling it to the point of almost falling over. Hahaha.

I also remember we had those strip heaters mounted low on the walls in all of the hallways. While waiting for classes to let out in front of you, people would sit on them with your feet out. If you remember, they only stuck out of the wall about 3 or 4 inches so one false move and you're on your ass. Sure enough, Steve would sneak up on you and yank your feet so you'd fall and your back would scrap against the vent. Funny guy...I think I still have a scars on my back.

Steve also had what he called "The Brain Trust" whose members included, I think, Steve, Brendan, Jason Miller and me. Yes, we were cool. The four of us also spent a lot of time eating lunch at Steve's house during our senior year. Every day we'd go down there and Steve would cook us grilled-cheese sandwiches - usually burning them - while we watched the latest episode of "The Cajun Chef"! Hahahaha.

In my 11th grade yearbook, Steve closed his sentiments with "...Best wishes for an eternal hard on."

Steve was in Georgetown in June 2001 to attend a banking school.

On 5/05/02 Steve ran in the "Broad Street Run." Or, as Steve described it, he went "slowly stumbling down the road." The race is a 10 mile run held in Philadelphia to raise money for Cancer.
15-Year Reunion


Kelly, Julie's Rent-a-date,
Julie, Steve & Chris
Kelly, Julie's Rent-a-date,
Julie, Steve, Christine,
Christine's Husband,
Laura, Beth & Chris
From the May 1984 Penn Post
Exeter Optimist Speech Contest
Mt. Penn Produces Two Winners
On Friday, April 6th, the Exeter Optimist Club sponsored an oratorical contest for Mt. Penn and Exeter students at the Exeter Restaurant. There were many things the contestants were judged on such as poise, delivery, use of hand gestures and enunciation. The winner was then determined by the highest overall score.
Steve Kunkel, a sophomore, and Bethany Lightner, eighth grade, both from Mt. Penn, won first place in their division along with a $50.00 savings bond for their speech "My Responsibility - Involvement." They later competed in the zone contest held at the Village Diner, April 27 but were not chosen as winners. Also competing at the Exeter Restaurant were Carol Bigos, Jill Moyer and Steven Reis.
- Jill Moyer
From the February 1986 Penn Post


SENIOR OF THE ISSUE
Steve Kunkel, our Male Senior of the Issue, is a member of College Bowl, Boys' Leader Corps and Science Club. Steve is also president of the United Nation's Club. Basketball and golf are two sports in which he participates. American Government is Steve's favorite subject in school.
In his spare time, he enjoys sleeping, eating, listening to Bryan Adams, and being with his friends.
Steve's plans for the future are to attend college in Virginia and study political science.
-- Sandy Horning
From the June 1986 Penn Post


TOP RANKING SENIORS
STEVE KUNKEL belongs to Boys' Leader Corps, Science Club, College Bowl and NHS. This year, Steve was president of United Nations. He has also played golf since 9th grade and basketball in 9th, 10th and 12th. Steve has won the Optimist Oratory Contest and received an American Legion Award and a citation from the Pennsylvania House of Representatives. Steve will be majoring in political science at the University
of Richmond.
Number of Practical Jokes
Steve played during our senior year: