---
VIVA GOOD LIFE BISTRO AND LOUNGE
January 10th, 2004
(1) Me and Bev, (2) Randy Boyer - cool face, (3) Randy and Darren giving a demonstration on the bed in the lobby at The Sheraton. Why is there a bed in the lobby anyway?, (4) Kirsten Cheskey, of the Neurotic and Negligent fame. By the way, I hold the rights to all of your creative writing, (5) Deb and Darren Max.
---
| | |
| --- | --- |
| | How do you like this one? This is me from 1976 when I was in 2nd grade at St. Catherine's. Nuns are scary. I remember getting yelled at because my nails had a little dirt under them. Umm, hello? I was an 8 year old boy - I'd have to question any 8 year old boy that DOESN'T have a little dirt under his nails. |
---
---
Teen-Aged Mike Capilo

These are pictures I stole off of the "Drake, Apartment 20I" website which is where Mike lived when he went to Temple starting in 1985. Mike and the three guys he lived with have their own "eGroup" on Yahoo complete with message board, photos, polls and a chat room. It's important to note that I was at 20I on a few occasions, and once was there for a Halloween party. Mike and I split a Pirate costume and went collectively as "A Pirate." Unfortunately there are no pictures of that. CLICK HERE to check out the "20I" eGroup.
---
A Picture of Kerry McGuinness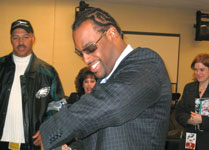 This may appear on the surface as just a cool picture of my man, Donovan McNabb. But it's actually much much more than that! It's really a picture of my friend Kerry (McGuinness) Royer (that's Kerry on the right!) and Donovan McNabb just happened to get in the way of the picture. Kerry got to meet Donovan after the Eagles 33-20 romp of the Saints on 11/23/03. Kerry works for the State Treasury which held their yearly "Helping Career Dreams Happen" contest. The winners took part in a ceremony in their honor at the Park Hyatt Bellevue Hotel in Philly and then were taken to Lincoln Financial Field for another ceremony and the Eagles game. Kerry got Donovan's signature and told him that she started him on her Fantasy Football team that week, to which he responded, "Well, I must've scored you a lot of points then!" Kerry is such a suck-up.
---
Lake Ontelaunee, 11/22/03
I don't know that I'd say there's really anything terribly special about Lake Ontelaunee except that it's only 5 minutes away, and I think I found one of the spots to get really cool pictures through the trees. We were actually there to try to get a good picture of Jolie in her Christmas outfit. She wasn't in her usual cooperative mood, but we got a couple pictures that are OK.
---
Halloween 2003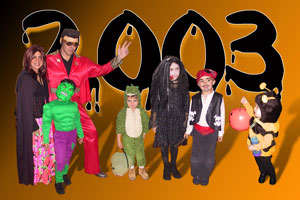 This a picture from Halloween. Or rather, it's three pictures taken separately and pasted together using the magic of PhotoShop. The three on the left are Bev's brother Scott-Elvis, his wife Teresa and their son Eric. The middle three are Bev's sister Deb's kids - Camerone, AnnaLia and Pierce. The cute Bumble Bee is, of course, Jolie. Buzz Buzz Buzz.
---
Another PhotoShop trick...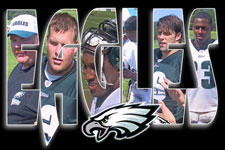 These are all pictures I took at Eagles training camp on 8/14/03,
and then reworked in PhotoShop using a technique called "Grouping Layers."
That's Andy Reid, Hank Fraley, Lito Shepherd,
Brian Dawkins, John Welbourn and Troy Vincent.
---
---
---
---
Number of Visitors to this Page: