---

---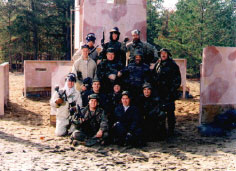 This is a picture from my first paintball experience at Picasso Lake in New Jersey. I didn't know anyone in this group except Mike Capilo (bottom right) and his roommates Steve Sgro (2nd row, 2nd from left) and Andy Hawkins (3rd row, 2nd from left.) I am in the 3rd row on the left. They ran out of camouflage outfits by the time I got to the front of the line and I had to wear these sand-colored overalls. I looked more like a mechanic.


This is a picture of Drew and me from a Marillion concert around 1992. I would have been 24, Drew was 22, and we were, as you can see, just blossoming into our coolness. Soon after this picture was taken, during the encore, the drummer would throw a drumstick into the audience as a souvenir. It was launched into the intersection of a beam of bright white lights high above, which temporarily blinded me long enough to take that drumstick smack in the forehead. I then bent over to pick it up only to get trampled by the crowd which had apparently never gotten anything for free before. The end result was a red mark on my head, a dummied finger and no drumstick. This, my friends, is the story of my life.
---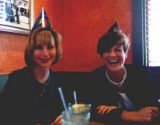 Here's a picture of Lisa Yost and Lori Hixon looking quite stylish in their GPU Energy hats from the Company store given to all employees who worked during Hurricane Floyd. Lori recently accepted a new job working in Harrisburg and says she doesn't care for any green mushy foods, while Lisa's behind was recently featured for about 48 hours in a "Scan of the Day".


Here is a picture of Bernie Woodcock, his wife and his grandfather. I think Bernie told me he was 28 years old in this picture.
---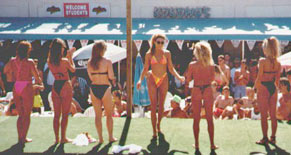 This is a picture from my trip to Spring Break with my college roommate at the time, Steve Malone. The year was 1991, and apparently they were having a fabric shortage in Daytona Beach.

---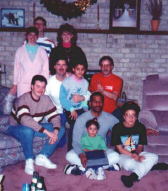 Here you see the 1993 Substation and Transmission Volleyball team. Standing in the back: Anne & Al Nerino, Sherry Deane; Sitting: Tom Groscup, Joe Deane and Bill Keller; sitting in front: Cesar Lopez. Intermixed are Cesar's three kids.
---
Click Below to Go To More Scans!
---
Number of Visitors to this Page:

Revised: November 27, 2003