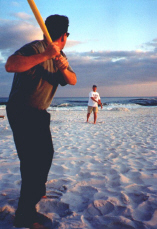 Another picture from the great Fort Walton Beach,
Florida trip. I'm glad we took pictures of this feeble
attempt at displaying our manhood. It's small
proof that we did something on this trip besides
eat, sleep, watch Sportscenter and go to Sammy's.
This picture is of Greg about to take a swing against Drew.